LinkedIn Just Lost $11 Billion as Shares Crash More Than 40 percent
A disappointing revenue forecast dragged the stock to a three-year low.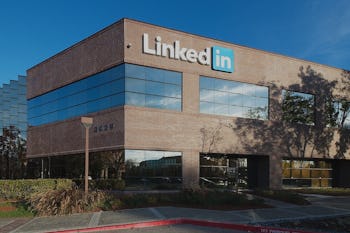 Wikipedia Commons
LinkedIn shares took a dive Friday after the social network for job seekers released a dismal revenue forecast, with sluggish growth causing analysts to say that the company's valuation was no longer justified.
The company predicted full-year revenue at roughly $3.60 billion, a much smaller figure than the average analyst estimate of $3.91 billion.
As a result of the 43 percent plunge destroying roughly $11 billion of LinkedIn's market value, the stock is sitting at $109.50. That's the biggest fall since it was listed in 2011. Reuters reports at least seven brokers have downgraded the stock from "buy" to "hold." You can almost hear LinkedIn execs sprucing up their resumes now.
All in all it was a Black Friday for the business tech sector. Business-analytics company Tableau Software lost half its market value after its yearly revenue looked to be half of analyst predictions, while business-software firms Salesforce.com and Workday shares both dropped more than 10 percent.