Inside the Battle for Showbiz Pizza's Rock-afire Explosion Band 
Its creator sold off of his singing animal robots. Fans had them sing Usher hits on YouTube. Then things got weird.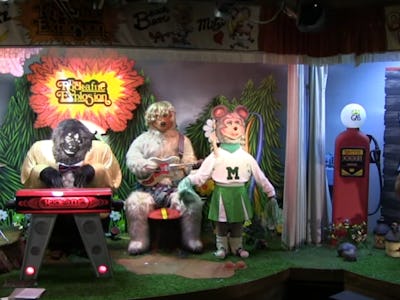 YouTube
Picture rolling into a Showbiz Pizza as a kid in the '80s — long before the internet let you find manic wonders with just a few keywords, back when a quarter was real money — and seeing the bounty set before you. There was probably a ball pit entangled with slides and mats. The proto arcade games like Donkey Kong and Qbert were probably there, already a little stale. Or you could pump tokens into Skee-ball or dome bubble hockey or some other campy game that, even as a 9-year-old, you knew was hopelessly kitschy. Not that it mattered. You were, in all likelihood, delirious with sensory overload, hopped up on redemption tickets and flickering lights and Pepsi and pepperoni as any intoxicated high roller staggering down the Vegas Strip right now, unsure of where he left his belt.
One of the the unheralded — and, as it turns out, beleaguered — fathers of this stripe of American childhood is named Aaron Fechter. I wrote about him recently for Popular Mechanics because he's something of a warped genius, the Alexander Graham Bell of the kiddie casino. Depending on whose version of events you believe, Fechter was likely the creative force behind the classic Whac-a-Mole cabinet game. But because this wasn't enough for one lifetime, he also developed the Rock-afire Explosion, the animatronic house band for roughly 200 Showbiz Pizza restaurants in the 1980s. They were the centerpiece, in fact, of a trip to Showbiz. Imagine three coordinated stages of various person-sized robot animal musicians jamming out on keyboards and guitars every few minutes. It was quite literally the weirdest mass experience kids could have in a lot of little towns dotting America.
But my time with Fechter was also a reminder of the Catch-22 that faces any artist — George Lucas, Stan Lee, hell, Harper Lee — who engenders a rabid fanbase, no matter how tiny. That to make something people react to passionately is to lose control of it. There's a reason doctors used to consider nostalgia a debilitating mental illness.
Certain that the band could land film and television deals beyond the arcade, Fechter refused to give up the characters' rights after the bankrupt pizza chain merged with Chuck E. Cheese. That fame never bloomed, and today the group's continued existence is largely split between ironic curiosity and the fond memories of aging fans. Every few months, one of those kids who grew up spending Saturdays in the Showbiz Pizza showroom makes the pilgrimage to Fechter's Creative Engineering warehouse in Orlando, Florida, and Fechter gives them a tour through what remains of the business where he remains as sole employee. The centerpiece is a full Rock-afire concert. The shows have always been programmed with an Apple II desktop computer just like the one displaying lime green lines of coding at Fechter's control station. Upgrade the software would be too expensive, at least so long as a new computer costs $50 on eBay. He has stacks of back-ups, file-cabinets brimming with floppy disks the color and dimension of a graduation cap.
"I wrote this show myself. It's one of the newest songs," he tells me on my visit to his headquarters. Almost all the voices are performed by Fechter. "It's sort of about how I feel as I get older, and how the Rock-afire feels."
After a warbling, minor key intro Beach Bear begins to croon:
"Ahhhh what's happening to me? What's this happening to my body? Time, she's slipping away…"
To understand the pull the Rock-afire has for some fans, talk to David Ferguson. In the '80s, at the band's height, Ferguson looked like just about any kid in the arcade except for the tape recorder. Twice a week he asked his family to drop him off at the Indianapolis Showbiz, but this way on the days he was stuck in his room he could have a little of Rock-afire with him. It was one of those 12-inch grey bricks of plastic from Radio Shack, and he kept his hand on the handle in the front row, recording his bootlegs onto reel-to-reel cassette.
It wasn't that his parents used it the place as a form of daycare, or that they wanted time to themselves. Ferguson begged to go. His dad was an electronic engineer, and with a little guidance he started to build his own version of the band in the garage.
The faces in the crowd were almost as good as the ones on stage.
"Everyone looked amazed. Just in total awe," says the now 37-year-old defense contractor. "I wanted to be able be part of doing something that would make people look like that. I wanted to inspire that joy."
Then one day, the band disappeared.
He guesses most kids forgot about them. No surprise there. His friends always thought he was a little weird about his fandom.
When he got to college, Ferguson did some searches online on a whim. Like so many other people at the dawn of the internet searching for things they thought were uniquely special to them, it turned out he wasn't alone. By 2001 he was able to buy his first real Rock-afire pieces on eBay, some incomplete Fatz Geronimo gorillas being auctioned off by Fechter himself.
Pair Chris Thrash's childhood Rock-afire experience with Ferguson's and a pattern emerges. Now a roller skate rink DJ in Alabama, Thrash would tell people that when his mother worked on weekends she'd drop him off at Showbiz with a fistful of quarters. When that ran out, he'd sit in the dining room watching show after show, and when she came back he'd ask her to wait for one or two more. (Thrash did not respond to multiple interview requests. His story, however, has been detailed in a short documentary on the Rock-afire released to modest viewership in 2008, failing to garner even a single review listed on Rotten Tomatoes).
When the two found each other online, Thrash had already purchased a set directly from Fechter, and Ferguson was sending a contemporary software program for shows to Rock-afire acolytes. But until Thrash came along everyone was using it to recreate the shows they remembered from childhood. Thrash was the first person to decide the Rock-afire needed a contemporary set list.
The first video Thrash uploaded to You Tube was set to Bubba Sparxxx's "Miss New Booty." All the elements were there for an internet hit. For kids who'd never heard of Showbiz there was an uncanny valley weirdness about it all, for thirtysomething ironic nostalgia. It got 80,000 views. A second clip set to Usher's "Love in This Club" pulled in over a million. Encouraged by the reaction, Thrash opened his own restaurant, Showbiz Pizza Zone, in 2008 in Phoenix City, Alabama.
When Fechter saw what was being done with his creations, he hated it, accusing the fans of tarnishing innocent characters with R-rated content.
There is a unique validation in knowing that not only have you built something people remember years after it vanished, but that their love remains so strong they would spend thousands of dollars just to recreate the experience. The irony was that the fans saving the Rock-afire from obscurity were able to accomplish the one thing no corporate restaurant chain could. They had taken control of the characters out of Fechter's hands.
Fechter says the software created by Ferguson infringes on his rights to the characters. Ferguson argues the software keeps the show alive by letting fans play in the sandbox. Words were exchanged (Ferguson admits to calling himself the "future of the Rock-afire" in one heated argument) and viral videos were challenged. The current upload of the Usher video begins with a disclaimer that the YouTube channel is under attack.
Fechter has softened somewhat, though not in regards to Ferguson (who he vows to smash like another surfacing mole if he shows himself again). So many Rock-afire spins were popping up, he'd hardly have time to chase them all. In 2014, Five Nights at Freddy's, a game about being trapped in a kid's entertainment complex with animatronic robots, became a surprise indie survival-horror sensation owing a major debt to Fechter's concepts if not using the character's actual names.
"I've learned the definition of creepy because people have been telling me it's creepy since the '80s," Fechter says. "It's so lifelike, but yet it's not alive, that it creeped some kids out. It convinced them there was more to it than rubber."
Meanwhile, Fechter started fielding tour requests from fans discovering the man behind their childhood obsessions and selling off the remaining Rock-afire's that had been waiting in their shipping containers. (Today he retains one final full Rock-afire band in its original wrapping as something of a nest egg. He says this set will cost the right buyer upwards of $150,000, or it'll stay with him.)
And Fechter has learned to embrace the possibilities that he has more than one audience.
"You know Ron Jeremy, the adult film guy? He's in everything now! He's in all these movies and he's on reality shows," Fechter says. "The Rock-afire should have the exact same versatility. But it's going to be even easier for us because we didn't start out adult."
For now, Fechter has begun developing his own material to take Rock-afire to the next level, including this song about modern sexual mores:
Perhaps Fechter was the perfect fit for Reagan's America, with the explosion of arcades into every shopping mall and small town and the accompanying demand for new games to keep customers coming. Fechter, like everyone in the business, knows that in all but the rarest cases games have a small window to prove themselves, and even the best lose their novelty quickly. How many times does the biggest arcade fanatic feel the urge to play even his favorites? The biggest games, your Street Fighter IIs and your Pac-Mans, might move hundreds of thousands of units but for every one of those there's a dozen Burger Times collecting dust in some back room.
"Timing matters a lot," says former employee (and briefly girlfried) Kat Quast. "People at Creative Engineering were using email regularly before anyone knew what it was. He was working on machines to check your email in the 80s. He was on the right track, just the wrong time. If he hadn't lost so much of that business, he would've developed it more. He was a step out of sync. People know Bill Gates and Steve Jobs but not Aaron Fechter. And it's a shame."
Today there's even fewer places to sell a game and fewer homes for a robot band. For the most part, gaming is a home experience now. The boardwalks are closing, the shopping malls are dying. It's hard to build a business one quarter at a time. And while nostalgia arcades offering craft beer and unlimited Tetris still bring in the customers, a new game by definition will lack that sentimental glow. Still, Fechter hopes that his next game, Bugy Bash, will find a home. In his new creation, you try to squash a monster cockroach with a shoe.
"I don't need it to be that big," Fechter says. "The market's changed but I just need a few of these a month. I have to believe there are people out there who still want this. If the game is good enough, they'll come. I believe that."
As for Thrash, we can only guess how he feels about the future of his childhood obsession. The face of the Rock-afire's second act did not respond to interview requests, and the players quoted in this story have not spoken to him in years. The available facts are discouraging (Showbiz Pizza Zone closed in 2010), the rumors worse.
"He's shied away from people," Ferguson says. "I think he's gone through some hard times. After the restaurant closed, I heard he lost his house. I don't know kids today wanted to hang out and watch those shows like we did. And we're all getting a lot older now."