'Battalion 1944''s Kickstarter Campaign Signals the World War II Revival Gaming Needs
After eight years of modern and futuristic shooters, it looks like gamers are ready to return to Normandy.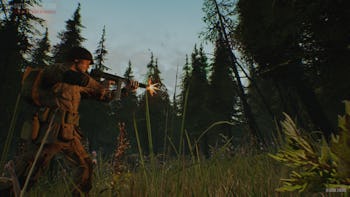 battaliongame.com
A few weeks ago at Inverse, we talked about how badly the World War II video game needs a revival — and today, it looks like the gaming community might just agree with us.
Launched on Kickstarter three days ago, Battalion 1944 will set out to recapture the classic, skill-based multiplayer of World War II shooters like Metal of Honor, Call of Duty 2, and Day of Defeat in an up-to-date graphical experience. Its goal was to raise $142,577 for production.
After a giant community rallying behind the project over the past three days, Bulkhead Interactive has not only raised their goal and been endorsed by Kickstarter, but they've also surpassed it entirely, with a total over $175,000 coming from 4,195 backers.
Powered by Unreal Engine 4, Battalion 1944 looks promising, especially when it comes to authenticity. According to the Kickstarter video, Bulkhead Interactive is working to visit as many World War II locations and museums as they can, in order to take reference photos for map design, get hands-on with the weapons to see how they handled, and understand the practices soldiers would follow throughout the war. As fans of the genre and setting, they're really working hard to capture the look and feel of World War II and implement it into a multiplayer shooter.
What's more interesting, though, is how they are completely voiding Battalion 1944 of the popular unlocks many games today include to focus on player skill, instead of powerful equipment. Instead, Bulkhead aims to put progression in through cosmetics, with weapon engravings, equipment customization, and more. The idea is that you'll be able to shape an individual identity as a soldier of World War II within the game and become a recognizable player on the battlefield. Honestly, it's a welcome change of pace compared to the Call of Duty unlock generation we live in today.
Battalion 1944 is currently expected to release in May of 2017 on Xbox One, PlayStation 4 and PC.