Being Too Tired Can Make You Facebook Crazy
A recent study finds a lack of sleep makes people prone to repeatedly check their accounts.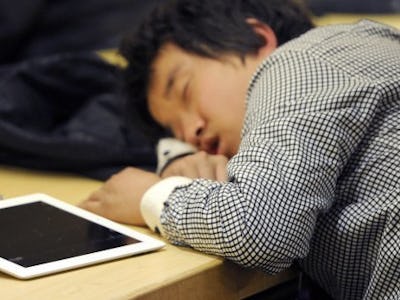 twitter.com/nypost
A lack of sleep could result in an overuse of Facebook, not the other way around, researchers at the University of California, Irvine (UCI) reported Thursday.
One might infer that the act of checking one's Facebook page dozens of times a day could be costing serious sleep time, but the UCI study group has come to a conclusion that it's the initial lack of sleep that leads to the frequent check-ins — as well as other overdone online activities.
Sleep deprivation is already well-noted as a cause for several problems in daily life, from falling asleep behind the wheel to nodding off at work. The UCI team took up the study of poor sleep's impact by following 76 of the college's undergraduates (42 females, 34 males) over a seven-day period back in 2014. Using sensors to gauge stress, behavior, and activity, the participating students had logging software applied to their smartphones and computers — which provided time stamps every time a subject switched between apps, texted, or made calls — and then were asked to fill out surveys twice daily, once in the morning and again in the evening, with questions concerning difficulty of current tasks, feelings of concentration, and mood.
According to the study, the researchers found a direct correlation between chronic lack of sleep and an increase in Facebook browsing — and in addition, the less sleep a subject got, the more that person generally demonstrated a shift in attention toward computer screens, indicating tiredness could correspond with increased chances of distraction from solitary tasks.
Lead researcher and UCI Informatics professor Gloria Mark, when discussing the study with the UCI website, that "There have been lots of studies on how information technology affects sleep. [We did the opposite: We looked at how sleep duration influences IT usage," adding, "When you get less sleep, you're more prone to distraction…If you're being distracted, what do you do? You go to Facebook. It's lightweight, it's easy, and you're tired."