How to Pack Your Suitcase to Prep for a Blizzard
Flights canceled? Meh. For airport layovers of indeterminate length, keep clean and barter on.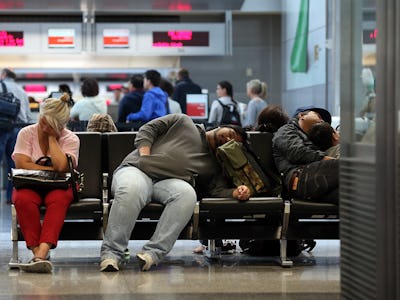 Getty
The news of Winter Storm Jonas and his threats of icing the northeastern U.S. reached me by way of the Manila Bulletin as I nursed a cold San Miguel one sultry 89-degree afternoon. "Sucks!" I thought, thanking my ancestors for kicking it in the Philippine rainforest, when it suddenly dawned on me: My return flight was going headlong into the slush.
Americans have a long history of being stranded in airports. In March 1993, the Storm of the Century, ominously nicknamed the No Name Storm, shut down every airport on the eastern seaboard. Ten years later, a storm stranded 4,000 travelers at Denver International. Jonas was poised to do the same, but there was no way the pilot of my 14-hour flight home could accurately predict whether our plane could land at JFK. Paranoid I'd be stranded in Chicago's notoriously godforsaken O'Hare for a showerless week, I prepared for the worst. Here's how you can, too.
Wipes
It's vile enough having to breathe in the exhalations and vaporized sweat and sneeze-fogs of everyone on a long flight. The prospect of that moisture condensing on my body and having to pickle in it for several days was too much to bear. Wipe that shit off, and do it often.
Power strip
You will attempt to save on iPhone battery life while trying to connect to airport WiFi and attempting to catch up on a back catalogue of emails. You will fail at both. But being the guy or gal with the power strip in a crowded airport will, at the very least, win over new pals and, if you're especially enterprising, maybe even a couple of bucks.
Snacks (for eating and for bartering)
Sooner rather than later, your body will tire of Currito Cantina's international taco selection and possibly implode after one too many Auntie Anne's pepperoni pretzels. So what if I was the girl whose backpack reeked slightly of tuna salad sandwiches and garlic corn nuts? Not only did I have bar snacks to share, I also wasn't the perspiring slob forcing a Bangkok Burrito into my pasty, salt-gutted mouth, which leads me to my next point.
Water bottle, empty
High-sodium airplane and airport food is pre-packaged dehydration, and that's after the flight's high altitude and canned air wick the moisture out of your skin. leaving you a chafing, flaking mess. The TSA has made it impossible to pack your daily half-gallon, but the federal department of crotch-patting will permit an empty bottle for filling at airport water fountains.
Book
The selection at airport bookstores can be surprising — Newark Airport, notably, had a signed copy of Kareem Abdul-Jabbar's book on Mycroft Holmes — but consists mostly of "inspirational" travel novels like Cheryl Strayed's Wild, which make a mockery of anyone trying to bring an endless journey to an end. You need a book for the long haul — I had travelogue extraordinaire Moby Dick — to carry you through the physical and existential turmoil.
Cards
It will get awkward pretending you don't "know" your airport neighbors when you've been sharing phone chargers and canned air and a hypothetical bed with them for a week. Embrace the situation and get a game of King's Cup going at the inevitable TGI Friday's.
HEATTECH
When you're traveling home from a stint in tropical paradise, you're not exactly prepared to face a fucking blizzard. Besides, does your Canada Goose parka fit in your 22" x 14" x 9" carry-on? Not around 12 pounds of corn nuts, it doesn't. Uniqlo's line of thermal wear is thin, cheap, warm AF, and — crucially — odor resistant.
Clean underwear
Because you're too old to turn it inside out more than twice, you animal.