The Trailer for Syfy's Upcoming 'The Internet Ruined My Life' Is Heavy Stuff
The trailer for the new Syfy show doesn't beat around the bush: The internet can totally ruin your life.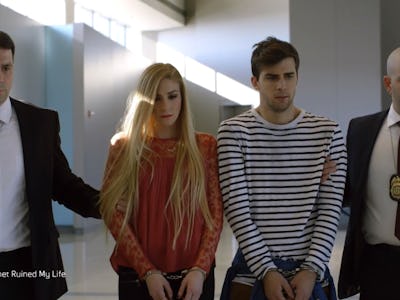 Syfy.com
Syfy is picking up new shows left and right. Yesterday, the network greenlit Incorporated, and today they've shared the trailer for a new series called The Internet Ruined My Life, which was given the go-ahead back in November.
The show's description on the Syfy website provides the necessary context, if the title of the show isn't clear enough: "The Internet Ruined My Life exposes the unexpected perils of living in a social media obsessed world. Each half-hour explores what happens to a person when a single tweet, post, or status update backfires and spirals out of control." You can read about the specific stories that will be featured on the series here, and you can watch the trailer here.
To try and quantify the reach of the internet in modern society doesn't matter nearly as much as acknowledging that it has irrevocably changed our lives. But when something as amorphous and pervasive as the internet becomes so ingrained in our every day lives, it can never hurt to take a step back and try to consider its disadvantages or covert traps. Based on the available information about The Internet Ruined My Life, the show will function as half-hour warnings to those who, perhaps, haven't considered the unexpected dangers of the internet. Using first-hand accounts should do the trick, too.
Considering the Syfy channel's overarching aesthetic of science-forward, futuristic programming, it doesn't seem probable that The Internet Ruined My Life will be wholeheartedly against the internet. It may be, however, the heavy-handed reality check we all need to gain some perspective. The show wants to detail how seemingly minor contributions to the internet — like tweets or Facebook statuses — can elicit grave consequences, if posted with reckless abandon. The internet is incredible, but it is not to be messed with.