The 'Descender' Movie Is Coming, So Read the Comics Now
Get ready to cry about robots and wish, yet again, that you lived in space.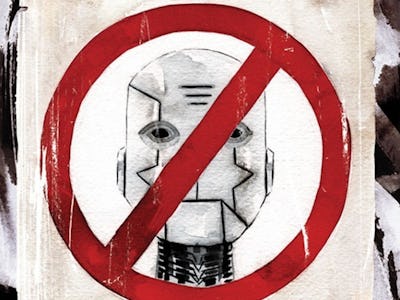 Descender, a space opera comic released by Image, is so damn good that Sony bought the rights to adapt it to film based on the first issue alone. Descender #1 was released in March 2015, and, according to The Hollywood Reporter, Sony nabbed the rights to make the comics into a movie right around the same time of year.
The comic's film adaptation looks promising, as both writer Jeff Lemire and artist Dustin Nguyen will serve as executive producers. Jesse Wigutow, whose only notable credits include the screenplays for the upcoming The Crow remake and Disney's Tron sequel, has been hired to write the film's screenplay. Deadline reported back in 2013 that Wigutow's career had been surging with new credits, but we have yet to see any of his projects come to life.
So why follow the film's production? The comic is out-of-this-world beautiful, telling the story of an android created to act as a brother to a human little boy. The android and his boy have been torn apart, and they both meet the kinds of characters you'd expect to see lounging in the Mos Eisley Cantina while trying to reunite. While the central android navigates his "coming of age" story, he meets quite a few robots who try to tell him that humans aren't worth his emotions. As a reader, the comic can feel like you're following your iPhone's self-actualization, and even the most mundane abuse you dole out toward it make you feel like an ungrateful human.
One stand-out among the supporting cast is a huge robot built for demolition, Driller, who loves the little android protagonist and can't say much other than "Driller's a real killer!" Driller also angrily calls a robot dog "Yappy bot," so he's gruff and endearing.
Aside from creating some of the most memorable minor characters in contemporary comics, Lemire and Nguyen have made a soft and lyrical story out of space warfare. Their humans are conflicted and tormented, and their androids are calculating and complex. Their interplanetary world is rendered in an art style that looks like a series of dreamy watercolor paintings. There's a sensation, reading the comics, that we're seeing the world through an android's eyes, picking up on only the most important visual stimuli and trying to find patterns in it. Descender asks: what if a Star Wars project followed a droid in a droid-led resistance? What would that look and feel like? How would a droid's experience of love appear different from a human's love?
Though the film will likely hold up on its own, Descender is also worth reading on its own merit. Anyone who yearns for a science fiction epic with sensitivity and sentiment will enjoy it thoroughly.