Mountain Dew's #PuppyMonkeyBaby Is Super Bowl 50's Nightmare Mascot
"Puppy Monkey Baby, Puppy Monkey Baby," intones the unholy creature. Drink Mountain Dew.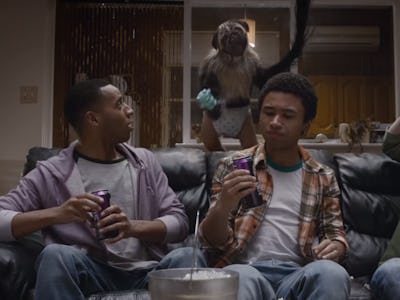 Wow, every year it's as if Super Bowl commercials sink their teeth further into the idea of themselves, until they're just sucking on bone. Marketing teams sit around haggard, with their third eye open, waiting for any kind of inspiration to strike. Perhaps while clicking through dog videos on the internet, Mountain Dew's team happened across an arresting image of a pug.
"Hmm, this dog … looks a bit like a monkey. What if it were half monkey?"
"Hmm, I was thinking there's more of a baby vibe to that goofy little face." And so on. Eventually, sketches: a wee dog's head, a monkey's torso and creepily flapping limbs, and primitive CGI baby legs.
Somewhere along the line came an idea that it should hold a rattle in the shape of itself, and dance around while carrying a chilled bucket of the newest Mountain Dew flavor — MTN DEW Kickstart in an "energizing Midnight Grape" flavor. Then, of course, the kernel for the funereal chant came, and the rest is history.
With this Rafiki-esque shaman #Puppymonkeybaby, our generation has gotten the equivalent of the "Yo quiero Taco Bell" dog we deserve. Even if you refuse to watch the video below right now, you'll still have to peep this clip several times during Super Bowl 50 on Mute.
For those of you who weren't planning on watching the game, perhaps you should give the Puppymonkeybaby a watch and then reconsider.