You Can Buy the Real Bat-Signal from 'Batman v Superman' on eBay
You and your buddy can relive every Batman and Detective Gordon rendezvous.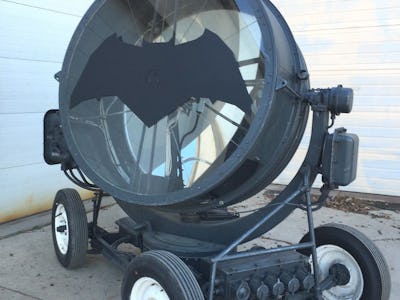 If you're an aspiring billionaire vigilante using a bat as the symbol of your vengeance, this new auction should be worth attention. The actual Bat-Signal used in Zack Snyder's Batman v Superman: Dawn of Justice has been put up on eBay for a hefty $65,000, shipped via freight from Fenton, Michigan.
The searchlight is a modified World War II Military Army Jeep model and comes from militaryvehicleweb, a reputable antiques dealer who has been selling online for a decade. According to the seller, the Batman logo was removed after production and replaced with an exact duplicate. But not to worry, Gotham: they claim to have full documentation of the light's use in the film.
If the spotlight is a bit out of your price range, fear not. You can buy the action figure version from Mattel. Though you can't light up the Gotham City skyline, you can annoy your coworkers. It's on sale for $65. Hey, it's a collectible.
Batman v Superman: Dawn of Justice releases March 25.