New 'Ghostbusters' Photos Reveal Chris Hemsworth's Skinny Arms
Actor Chris Hemsworth seems much less buff as the new team's administrative assistant.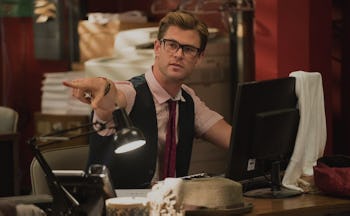 twitter.com/GBNewsdotcom
The Ghostbusters reboot has been a hot topic in the media since it was greenlit — and when the all-female, replacing-the-original-stars cast was announced, it became a controversial subject as well. Could it all work?
Well here's a chance to get a bit more — or less — judgmental, as the filmmakers have tweeted out a bunch of fresh photos from the upcoming flick — here's a look:
Melissa McCarthy as "Abby Yates:"
Kristen Wiig as "Erin Gilbert:"
Kate McKinnon as "Jillian Holtzmann:"
Leslie Jones as "Patty Tolan:"
… and what could be the most interesting shot to come out Tuesday is this photo of Chris "Thor" Chris Hemsworth as "Kevin," the male version of the role established by actress Annie Potts when she appeared as the nasally, NYC borough-styled secretary Janine:
Not to be tough on Mr. Hemsworth, but his biceps seem greatly diminished from his Avengers adventures — as you can see:
… we'll have to wait and see if Kevin can handle the phones properly:
The Ghostbusters reboot arrives in theaters on July 15, 2016.