Jada Pinkett Smith Will Return as "Fish" Mooney in 'Gotham' Season 2
Penguins eat Fish. Fish gets revenge.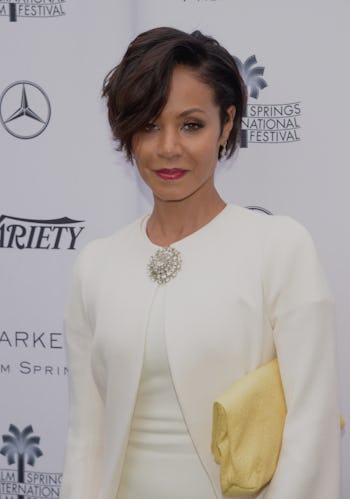 Getty
"Fish" Mooney is swimming back to Gotham City.
Jada Pinkett Smith is set to reprise her role as Fish Mooney in Season 2 of Gotham on Fox, according to TVLine. We last saw Fish in the Season 1 finale when Oswald Cobblepot (aka the future Penguin) pushed her off a building.
After her presumed death, showrunner and executive producer Bruno Heller said "not to assume anything in a town like Gotham," and that the comic book world is "very unpredictable." Which is to say that it is actually tediously predictable because as everyone comes back from the dead, all the time. Case in point.
The subtitle for the second half of Season 2, Wrath of the Villains, only reveals so much about the plot, but it's not hard to imagine where Fish will get her wrath — the guy who almost murdered her. It is safe to say that she will definitely have Cobblepot in her crosshairs. Beyond that, the future is wide open for a character like Fish. Especially given that she is an original Gotham creation, and, therefore, does not have a guaranteed place in adult Bruce Wayne's pantheon of villains. This could be a very short reemergence.