These Are the Best Marvel Instagram Accounts to Follow
These accounts are must-follows for any Marvel fan with an Instagram account.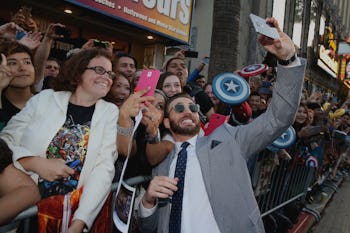 Getty
Ah, Instagram. With some 400 million active users, the photo-sharing social network is a deep jungle with plenty of hidden treasures — which is to say, neat eye candy to distract yourself with at the doctor's office.
There is no shortage of geek cred to go around on Instagram, and the platform holds plenty for everyone from the casual MCU fan to the more extreme Marvel devotees who proclaim "Excelsior!" at climax. Vibrant and colorful cosplay, sophisticated action figure photography, cover art preview, and diner napkin sketches from your favorite artists all flow freely on Instagram. Plenty of reason to "like," indeed!
Inverse has carefully curated the best Marvel-themed Instagram accounts to fill up your feed. Because, let's face it, all sunsets look exactly the same!
Spideyfit is a professional trainer and cosplay enthusiast based in New York who is downright obsessed with Marvel's premier web-head. Beyond his stunning Spider-Man cosplay, his impressive physical feats may inspire you to go out, hit the gym, and get your own superhero bod.
Another skilled cosplayer, Jessica: Maid of Might's geek interests go beyond simply Marvel to include Sailor Moon, Star Wars, DC, and the Disney Princesses. As seen above, her Spider-Gwen outfit is a sight to behold.
It's an open secret that comic book artists have the best Instagram accounts, but if you don't already, you should follow the Eisner and Harvey Award-winning Chris Samnee posthaste. The iconic artist is currently working on Black Widow with Daredevil collaborator Mark Waid and it's always a treat to glimpse his sketches and cover previews.
Speaking of Black Widow, Kevin Wada just posted his Black Widow #1 variant above. A fashion connoisseur, Wada regularly posts his vibrant pieces in between pictures of adorable dogs. What more could you ask for?
Another award-winning artist who regularly shows off her slick sketches on the 'Gram is Sara Pichelli. Pichelli is the illustrative authority on Miles Morales' Spider-Man. She's a delight to follow, and her incredible pieces make her an Instagram must for all Spidey fans.
Articulated Comic Book Art is a collective of hybrid photographers and action figure collectors who combine their passions into one. You will kick yourself when you see what these guys manage to capture in a frame with the same toys you gave away to your nephew years ago. (No, you can't ask for them back.) They are also not limited to Marvel and will provide you with plenty of DC, Ninja Turtles, and WWE fanfare. And more!
Full disclosure: we bought a Marvel figure from Xpecialz just a few months ago. This was after years of following him through the action figure photography community where xpecialz ranks among the best. Beyond Marvel, he has loads of amazing shots of Japanese superhero figures like Kamen Rider and Godzilla.
The internet's favorite Deadpool cosplayer, D Piddy, has a fun behind-the-scenes Instagram account that gives you a peek at the man wearing the mask.
The breakout star of Marvel's Agents of S.H.I.E.L.D. has a pretty typical celebrity Instagram … until you get to the behind-the-scenes stuff! Any fan of the ABC show, will be grateful for the addition to their feed and occasional spoilers that may slip through.
'Nuff said.
Marvel's clothing line takes the spotlight in @styledbymarvel, an Instagram profile that caters to the huge overlap audience between comic book fans and the fashion-conscious. It's like flipping through a dorkier Vogue.
Yeah, the official account. Why not? Marvel's social team keeps you up to date on new trailer releases, TV show air dates, and the final word on when their comics are out. Warning: they also give you pretty bad FOMO when the New York Comic Con rolls around.