Meek Mill's 'War Pain' Diss Track Crushes Drake's 'Summer Sixteen' 
Meek Mill and Drake's feud comes to a strange head when they both release diss tracks within an hour of each other.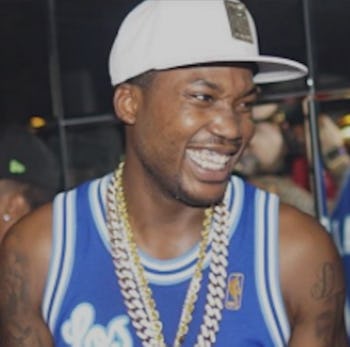 Meek Mill's Instagram
Something very shady is going on with Drake and Meek Mill.
Just a day ago, on his OVO Sound Radio show on Apple's Beats 1, Drizzy premiered "Summer Sixteen" off his upcoming album, Views From the 6 (slated to drop in April). In it, he rages on Mill and even tries President Obama. But within the hour, Mill posted his own diss track "War Pain" on a surprise EP, 4/4 Pt. 2. Not so weird, right? Except that he directly responds to lyrics Drake literally just released.
How did he know what Drake was going to spit about him? Mill posted on Instagram that "The ghost writer told me!" This is a reference to Quentin Miller, the guy Mill accused of ghostwriting a verse on a song they made together, "R.I.C.O." But Miller denied the claims on his own blog.
So, is Nicki the mole? She used to be Drake's dream gal and is currently comfy in the arms of Mill. Or is this "another one" of DJ Khaled's brilliant marketing tactics? He does make a feature at the end of "Summer Sixteen" and Mill is one of his frequent collaborators. If it's the latter, then we'll certainly hear all about it on Snapchat momentarily.
The thing is, though Drake's track is radio ready, it's not very original. Meek's has soul and power: two things Drake has always struggled with, IMO. Drake has style, certainly, and that sweet guy vulnerability that makes panties drop, but his song is thin and uninteresting. It's like we've heard it before.
The following is a little timeline of events.
Drizzy teases the tune on Twitter.
Then Mill uploads his new EP. The world realizes that, wait, Mill knew Drake's lyrics ahead of time. That's straight strange.
Mill is all like. LOL, "The ghost writer told me!" And that photo, have to say, kinda takes away from the good feelings the song elicits.
4/4 Pt. 2 starts out a little lame with some "fucking hoes" line. Like whatever. But it's almost impossible to deny that not only is Mill's IRL timing of this release impressive, but also the quality of the song makes him the champion of this round.
The sample is soulful, so you're feeling it more. Mill references his own tough guy past that highlights Drake's Degrassi pedigree. It's a home run, a slam dunk. It's a winner.