Obama Announces Computer Science for All Students in the U.S. 
President Barack Obama presents a solid plan to provide "Computer Science for All" children.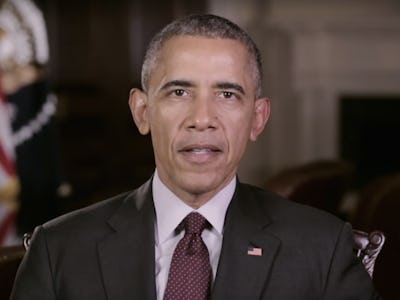 White House
The too future President Barack Obama began today's "Weekly Address" with a simple: "Hi everybody." Sure, it's a standard greeting, but that second word "everybody" is key. The man who once campaigned around the reality of "change" and the vision of "forward" announced his plan to educate all students — especially girls and minorities — in computer science with an initiative simply titled Computer Science for All.
Today's speech built on Obama's State of the Union address where he stated the necessity of "helping students learn to write computer code." Unlike the UK and Australia, the U.S. currently has no national CS curriculum and NPR noted recently that, "The Computer Science Teachers Association estimates that only about one-tenth of the high schools in the U.S. — to say nothing of middle and elementary schools — offer a computer science course today."
The President assured that, "In the new economy, computer science isn't an optional skill, it's a basic skill."
"How can we make sure everyone has a fair shot of success in this new economy?" queried the leader of the Free World. Well, he's got a solid plan.
First, he's asking Congress to fund CS classes in elementary, middle, and high schools around the country. Secondly, the National Science Foundation and the Corporation for National and Community Service will use existing resources to train teachers for these classes. Finally, he'll bring together a bipartisan group of tech leaders, governors, and business leaders around this cause. So far, states like Delaware and Hawaii, as well as companies including Google, SalesForce, and code.org are committed to his mission.
He believes this will ensure that America, "the country that invented all this stuff in the first place," will remain global leaders in technology.
The tech world is lighting up Twitter with its excitement over this announcement with the hash #CSforAll. Even the Cartoon Network is psyched about making coding fun. With this, Obama may just get the whole nation looking away from "traditional family values" and "forward" toward a changing future.