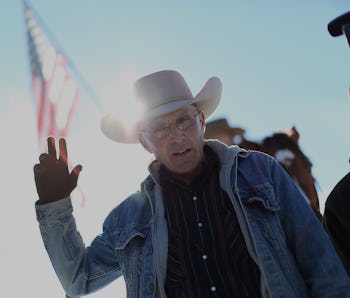 Mind and Body
FBI Releases Video of Shooting of LaVoy Finicum, Oregon Militia Spokesman
The FBI says it's releasing the images for the sake of transparency.
FBI
So, this was unexpected. The FBI on Thursday night released video footage of the fatal traffic stop that ended with the shooting death of Oregon militia member LaVoy Finicum and the arrest of leader Ammon Bundy.
The footage was taken from a helicopter and shows the traffic stop Tuesday outside of the Malheur National Wildlife Refuge in Oregon, where the militia has been in a standoff with federal authorities.
The video begins with the militia member's white truck parked in the middle of the road with federal agents behind them before suddenly fleeing. From there the scene breaks down:
9:15: The van swerves onto the shoulder to avoid a roadblock.
9:20: You can clearly see Finicum, 56, exit the vehicle to confront the authorities.
9:28: Agents say Finicum was reaching for his waistband when they opened fire. Because of the camera's distance from the scene and general low resolution quality of the footage, it's hard to say that this does much to prove or disprove the claims, but Finicum does appear to be reaching towards his waist.
9:32: Finicum falls to the ground, shot by FBI agents.
The FBI made the rare release in hopes of stanching conspiracy theories as militia supporters rally around Finicum as a martyr to their cause.
"We know there are various versions of what occurred during this event: most inaccurate, some inflammatory. To that end, we want to do what we can to lay out an honest and unfiltered view of what happened and how it happened," Greg Bretzing, the FBI's special agent in charge in Oregon, told the media.
"I want to caution you that the video does show the shooting death of LaVoy Finicum. We realize that viewing that piece of the video will be upsetting to some people, but we feel that it is necessary to show the whole thing unedited in the interest of transparency."
The FBI statement published with the video reads:
This is the complete video footage of a joint FBI and Oregon State Police traffic stop and OSP officer-involved shooting of Robert "LaVoy" Finicum on the Malheur National Wildlife Refuge. This footage, which has only been edited to blur out aircraft information, was taken by the FBI on 01/26/2016 and released by the FBI on 01/28/2016. Note regarding date/time stamp in the left corner of video: Pilots use Zulu Time, also known as Greenwich Mean Time (GMT), when they fly. Zulu time is eight hours ahead of Pacific Standard Time (PST). Therefore, although this footage was taken on January 26, 2016 in Oregon, the date/time stamp on the video shows just after midnight January 27, 2016.
There are four people still held up in the the refugee who say they're ready to die if they can't leave peacefully. Sadly, now they can see what that looks like.