Last Night's 'Idiotsitter' Tackles The Most Idiotic Concept of All: Death
The new Comedy Central show finds its footing in the most unexpected place. Also, there's a coyote in a tuxedo.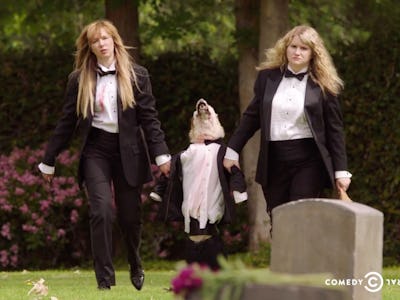 Comedy Central
The first two episodes of Idiotsitter were tasked with setting up its two leads as (mostly) believable characters. The third episode of Comedy Central's new series is the first to take the ball and run with it by fully delivering on what the show's title promises: sheer idiocy.
Last night's episode "Funeral" begins with a grim plot twist as Gene's idiotic counterpart and best friend Chet, introduced in the pilot, is mowed down by a truck after jumping in front of it to scare the driver. This was a game he and Gene liked to play in their spare time — which was a sizable amount of time. The majority of the episode subsequently finds Billie and Gene on their drive to his funeral, an experience that captures the emotional clusterfuck that is death.
A show like Idiositter doesn't beg for deep analysis, but the countless detours on the drive to the funeral reflect the lengths people will go to in order to evade the sadness of dealing with death. The pair find themselves delaying Gene's eulogy with stops at Panera Bread, Chonky Cheese (a rat-themed restaurant), a Color-Me-Mine-type establishment, and three separate visits to a tuxedo rental shop. By the time they arrive at the ceremony, Billie is wasted off boxed wine and greeting mourners with a "Thank you for your loss." They have also added a third member to their brainless fleet: a dead coyote they've dressed for the occasion
When it's Gene's turn to give Chet's eulogy — "a maker of apps, a lover of shadow government conspiracy theory" — she finds herself choking on her words in an absurd and gut-busting manner. An inebriated Billie subs in for Gene as the idiot composes herself, but eventually ends up attacking the poster cutout of Chet due to her fear of being pushed into the open grave.
As Idiotsitter finds its footing, it looks like the absurdism of "Funeral" will become part of the show's fabric. Beyond the whacky antics we are growing to enjoy on a weekly basis, the show keeps its heartfelt nature by reminding us that dealing with loss can make anyone — idiot or sitter — act totally insane.