Disgraced CEO Martin Shkreli's Feud With the Wu-Tang Clan Just Got Uglier
A new video the former pharmaceuticals CEO posted via TMZ threatens to erase the Wu-Tang Clan rapper from his own album, and more.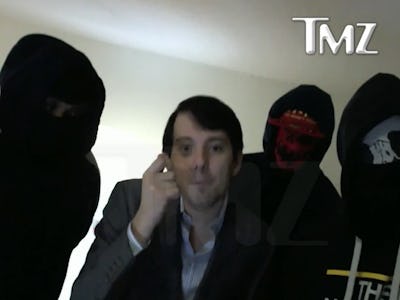 The saga of disgraced but unrepentant former Turing Pharmaceuticals CEO Martin Shkreli continues, somehow, just as it seemed he would fade back into the woodwork for a while. The Wu-Tang Clan's Ghostface Killah has been pushing Shkreli's buttons over the course of the last week in the form of TMZ videos, one in which Ghostface calls Shkreli a "shithead" for his notorious price-hiking of AIDS drug Daraprim, and another in which he mocks Shkreli's appearance:
Apparently, being called a "Michael Jackson nose kid" and "PeeWee Herman" was too much to bear for Shkreli, as well as Ghost's vague threats: "I'll break your heart in 4 days," "We can play, we can get it in." He released his own video on TMZ, featuring himself in a preppy uniform swirling some wine backed by three masked men in hoodies. Shkreli — who bought the only copy of the Wu-Tang's album Once Upon a Time in Shaolin for over $2 million in November — essentially threatens to unleash hell on Ghostface (who he calls "Dennis") and his crew: "Don't ever mention my name again, or there'll be more of a price to pay than just this video."
More immediately, however, Shkreli warns: "If you ever say some dumb shit again, this album … this Shaolin? — I'm gonna erase all your shit from this album."
"You're my son, I butter your bread, you understand me?" Shkreli continues, before asking the rapper for "a written apology from the heart … some written letter where you explain your sorrow and sadness for what you've done."
Shkreli and his companions also insult Wu-Tang side man Killah Priest, who appears alongside Ghostface in the TMZ videos for, essentially, being a snitch — "coppin' pleas" and "crying to the jake right away" — following a cocaine possession arrest.
Shkreli pulling a stunt like this while out on bail is pretty brazen, and the clip is probably the most insane publicity stunt he's pulled since becoming the most-hated new celebrity in the country this past fall. Perhaps recent adjustments to his bail package that give him some increased mobility and freedom got him feeling cocky, as well as offended. If this video points to anything, it's that Shkreli — ever active on social media — is becoming even more unhinged, and in danger of getting himself into more trouble that he's already in.