Suit: No, a Degree from DeVry University Won't Get You a Job in Six Months
Suit alleges DeVry knowingly misled students about their chances for a job post-graduation.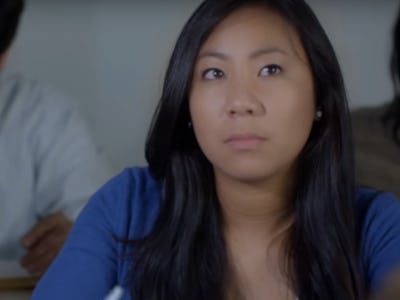 YouTube
The Federal Trade Commission filed this lawsuit today against for-profit DeVry University, claiming it lied to students about their prospects for jobs and earnings.
The FTC alleges that DeVry's advertising claimed 90 percent of its graduates landed jobs in their fields six months after graduation, and went on to have incomes 15 percent higher than students graduating from any other college or universities. Unfortunately for Devry's students, the school's administrators seem to be in need of a basic course on statistics, allegedly counting graduates as working in their fields, regardless of their actual jobs.
"Millions of Americans look to higher education for training that will lead to meaningful employment and good pay," FTC chairperson Edith Ramirez said in a statement. "Educational institutions like DeVry owe prospective students the truth about their graduates' success finding employment in their field of study and the income they can earn."
Shares of Devry crashed 17.43 percent at $19.60 following the Wednesday announcement. The business, headquartered in the Chicago suburb of Downers Grove, Illinois, has 55 campus locations across the country with more than 42,000 registered students.
According to the FTC announcement, the suit alleges:
DeVry counted numerous graduates as working "in their field" when they were not, including these examples from the 2012 graduating class:
A graduate who majored in business administration with a specialization in health services management working as a server at a restaurant;
Multiple graduates with majors in technical management whose employment was listed as unpaid volunteer positions at medical centers; a graduate who majored in technical management with a human resources specialization working as a rural mail carrier and another who worked as a driver delivering rain gutters for a construction company; and
a graduate who majored in business administration with a health care management specialization working as a car salesman.
The FTC goes on to argue that DeVry had good reason to question the numbers it was putting front and center in national ad campaigns:
The FTC's complaint alleges that Defendants had reason to question the reliability of the conclusions and information contained in a third party survey and report that DVU used as the basis for the income superiority claim. In addition, according to the complaint, comparing income information that Defendants obtained directly from its graduates with publicly available income data showed that DVU graduates did not in fact earn significantly more than graduates from all other schools combined a year after graduating.
In a related action, the U.S. Department of Education is putting DeVry on notice to stop advertising its post-graduation rates.
This isn't the first time DeVry has been called out on its promises. In 2000, three students filed a class action suit alleging the school lied about its students' chances at a high-paying, high-tech job. Another suit followed in 2002 alleging the school misled its students about the prospects for graduates in the post-baccalaureate degree program Information Technology.
In a response to the FTC's suit, DeVry has released a statement calling the federal commission's claims are based on "anecdotal examples that exaggerate the allegations but do not prove them."
The school stated:
DeVry Education Group intends to vigorously contest a complaint filed by the Federal Trade Commission (FTC), challenging the employment and earnings outcomes of DeVry University graduates. DeVry Group also learned today that the Department of Education ("the Department") has taken an administrative action related more narrowly to certain DeVry University records for the period 1975 to 1983. We intend to request a hearing on the Department's decision, and will collaborate closely with the Department to demonstrate our compliance and resolve this matter satisfactorily.
Once a lucrative business model, in recent years the feds have been cracking down on for-profit schools for shady accounting practices and luring students in with false hope. Last year, schools, including the troubled University of Phoenix, were banned from recruiting students on military bases or using federal grant money to fund tuition payments.
Sadly, the scrutiny comes too late to protect students saddled with tens of thousands in students loan debts without even the benefit of a respected degree. For-profit college students have evolved into major contributors to the student debt crisis, pushing out graduates who default on loans at more than double the rate of their four-year university counterparts.