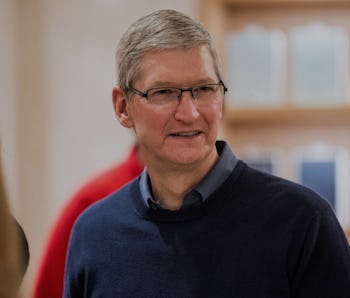 Innovation
Apple Reaches 1 Billion "Milestone" and Tim Cook Alludes to Virtual Reality
34,000 iPhones were sold every hour in the fourth quarter of 2015.
Getty
The numbers don't lie: In the words of Apple CEO Tim Cook, the company has "reached a major milestone, crossing 1 billion active devices for the first time."
Apple held its quarterly investor conference call today and, despite media and stock-market guru scrutiny, Cook and CFO Luca Maestri repeatedly maintained that they were both "very confident" and "very optimistic" about the future of Apple.
Cook also mentioned — after being prompted — virtual reality, deeming it not just a "niche" and implying that it was something that could "go mainstream." Choosing his words carefully, he said, "I think it's really cool and has some interesting applications."
This wasn't Apple's typical We Rule the World investor call, even though at times that's just how it sounded. Those in the know have been speaking poorly of the ever-cherished Apple stock (AAPL), suggesting, in essence, that there's a worm hanging out near the core of the fruit. A glance at AAPL's price over the past three months is seemingly indicative of such a change:
Apple has long been a favorite stock for investors — a so-called "growth stock," because all they've historically done is grow, and grow quickly — but these days no one's too keen on, say, inviting them to the lunch table. Investment experts are giving Apple a new moniker: "value stock." This name suggests that the stock is no longer likely to make you a lot of money in a short period of time, but instead will hold steady and remain relatively predictable.
The numbers that Cook and Maestri recited were indeed impressive, and Cook said that he would advise against subscribing to these "doom and gloom" projections. During the call, Cook casually stated that they were "reporting Apple's strongest financial results ever." A whopping 74.8 million iPhones were sold in the fourth quarter of 2015, which Cook says equates to "over 34,000 iPhones an hour, 24 hours a day, 7 days a week, for 13 straight weeks." In general, this success is not particularly surprising, given that it 'twas the holiday season.
Two-thirds of Apple's revenue is now generated outside the United States, and, looking forward, Apple hopes to achieve virtual world domination. It's after the two biggest markets in the world after the United States: China, then India. In these nations, the middle class is expanding at an impressive clip. (Cook, for instance, claimed that in 2010, China's middle class contained about 50 million people, whereas in 2020 it's projected to be almost half a billion.) When Apple realizes such a phenomenon is happening, it invades.
"We remain very bullish on China," Cook said.
Apple's fiscal considerations are on the "macro" scale, meaning that it's most concerned with macroeconomics. A major focus of the conference call, a point that Cook and Maestri continued to stress, was that the "macroeconomic environment is weakening."
Currencies and economies globally are in a downturn, and Apple is taking some hits as a result. They're also forecasting more barrages in the next quarter. No less, Cook says, "We're continuing to invest without pause. We have some great things in the pipeline, and we very much believe in investing through the downturns."