Why Do American Restaurants Serve Such Obesity-Friendly Portions?
A study finds that 92 percent of meals surpass recommended calorie counts.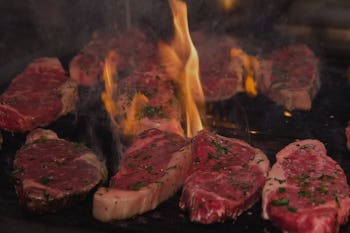 Getty Images
In what could be viewed as either revelatory or predictable, a recent Tufts University study has found that 92 percent of dishes in U.S. restaurants exceed recommended calorie counts for a single meal. The aha! moment, here, is that Tufts researched both chain and non-chain joints — surveying 364 meals in the process — for its findings. You've heard for years that fast food is the devil: Now add your neighborhood diner to the list. And while many restaurants could offer more poached fish, they won't. The simplest fix in one of America's biggest problems could be as basic as serve people less food, so they don't eat the equivalent of two meals at a sitting. So why don't restaurants simply do less and cut the sizes of behemoth portions?
Here's a simple fact: People in France love to go out and eat cheese, white bread, steak, fries. They love wine. And they're skinnier than us. Why? They eat less. It's not news, but massive platters of food at the Cheesecake Factory are making us fat. And, now we know main street's Italian joint isn't doing that much better. Say it with me now: We are all Chet Ripley.
So, is the restaurant business doing anything about it? "I have not seen any significant move toward smaller portion sizes in restaurants or half-sized orders of larger items," John Imbergamo tells me. Denver-based, Imbergamo has been in the restaurant game since 1974. He currently oversees the Imbergamo Group, which has represented some of the finest restaurants in town, from Elway's — you can guess who owns those steakhouses — to Rioja, a spot helmed by James Beard Foundation award-winning chef Jennifer Jasinski.
I ask Imbergamo if restaurants could save money by not buying — and then selling — as much food. "Food costs are 25 to 35 percent in restaurants, depending on the concept. Second-highest cost other than labor," he says. But, it's still not happening because there's little demand for the idea. What's left is Bloomberg-esque nanny laws (which, interestingly, seem closer to reality this week). "Legislation that would require eateries to serve whatever portion the customer wanted at a commensurate price would be a logistical nightmare for restaurant operators and wouldn't save customers very much money," Imbergamo notes. "I can see how ivory tower academics would assume that restaurants could cut the price in half for a half-sized portion of the same meal. Of course, this would leave out all the fixed and labor costs associated with preparing and serving said meal." The water, lights, gas, rent, and linen service are all fixed costs, more or less, no matter how much food the restaurant peddles. Better for the bottom line to have customers lowing about how great the portions are, and keeping the rest of the 300 percent markup on every plate they present.
It's all quite complicated. Even more hairy is that the only defense left might be our own self-control. As senior author of the Tufts study, Susan B. Roberts, Ph.D., notes, "These findings make it clear that making healthy choices while eating out is difficult because the combination of tempting options and excessive portions often overwhelm our self-control." It might be easier said than done, but let the doggy bag be your friend. Or move to Paris.