What to Expect From 'Vikings' Season 4
Your spoiler-free guide to the upcoming season: Bjorn will do 'The Revenant,' Rollo will keep saying "Hello" and more.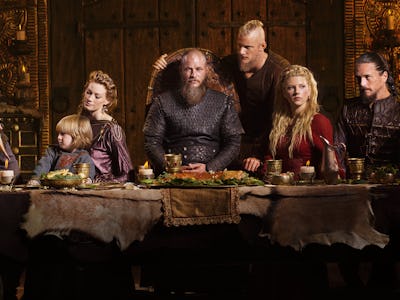 Vikings Season 4 premieres on February 18, following Ragnar, Lagertha, Rollo, and the rest of the crew after Season 3's game-changing raid on Paris. The first four episodes of Season 4 have been made available to critics, so here's a spoiler-free rundown of what to expect.
Life goes on post-Athelstan
Athelstan's death last season hit both Ragnar and the show hard. Their relationship was one of the show's greatest strengths because it gave us a lens to the Viking culture through outsider eyes — and it made for a dynamic made consistently rich because the two men came from vastly different ideologies. Not to mention, Travis Fimmel and George Blagden had a natural chemistry.
Athelstan's death left a void in watching Ragnar interact with someone who doesn't hero-worship him yet respects his intellect and offers an outlet for his boundless curiosity. Luckily, Season 4 has found a way to get that dynamic back without attempting to replace Athelstan. Mysterious new character Yidu will fill that space in Ragnar's life in a different way — and more importantly, she will bring perspective from yet another new culture into the mix.
And, as always, Season 4 will continue to see Ragnar's patented kinetic energy, including his eye roll-body flip move, as well as his sassy hand gestures.
Hello from the other side
Watching Rollo evolve from an impulsive, glowering, rape-and-pillaging hothead into a caring uncle and moderately respectful partner (RIP Siggy) has been one of the best parts of Vikings. Don't get us wrong, his berserker warrior moments are also a highlight, particularly every single insane thing he did in Season 3's attack on Paris. But aside from infusing Rollo with a mixture of ferocity and surprising soulfulness, one of Clive Standen's strongest assets is his flawless comedic timing.
Standen has a Mr. Bean-like talent for old-school physical comedy. Rollo's unwilling baptism in Season 1 remains one of the funniest things the show has ever done, entirely thanks to Standen's wordless performance.
Rollo's clumsy "Hello" to his pissed-off new bride at the end of Season 3, followed by that proud grin, was at the same level as that baptism scene. "Hello" was the best part of Season 3 — aside from Ragnar's eye roll-backflip, Floki's heartbreaking coffin confession, and Bjorn's "bring it" hand gesture.
Rollo's marriage to the unwilling French princess will provide comedy gold, and we guarantee that his wedding night will not disappoint. But if you're worried that this lapse into comedy will make his volatile side vanish, fear not. Rollo will remain both a funnyman and a fighter.
Bjron will do The Revenant
Bjorn really came into his own in Season 3, stepping into his father's shoes to lead the troops during Ragnar's feigned death scene. His "bring it" moment, outside the gates of Paris, was not only tremendously satisfying to watch, but an affirmation of both his rightful place as Ragnar's son and the show's place as an unparalleled drama. Vikings remains a show in which characters speak through their actions.
Many have complained that Bjorn's previous storylines have been mostly about love triangles. Season 4 will change that. Recall back in Season 2, when Bjorn and Lagertha were still living with Earl Asshole. Bjorn expressed his desire to find his inner Thoreau and ignite his inner manliness in the woods. (Because leading hundreds of Vikings in storming Paris least season obviously means he's gone soft.) Well, Season 4 will put that desire front and center. Get ready for Bjorn to go full Revenant — hopefully, he'll fare better than DiCaprio.
Lagertha will continue to bust balls
Lagertha has had a mercurial run: As a wife, mother, and hardcore badass, she is a woman both ahead of her time and very much of her time. She stands on her own apart from any man, and yet in the world of Vikings — a world she deeply loves and believes in — she constantly encounters men who refuse to acknowledge her strength.
Season 4 will continue this ride, and you will keep feeling conflicted about Kalf. We acknowledge that he saved her life, but Lagertha can do better! At any rate, there should be plenty of opportunities for her to yell, "Shield wall!"
Your Season 3 concerns have been heard
"My favorite parts of Vikings are the scenes in Wessex that don't involve any actual Vikings!" says absolutely no one. Vikings' greatest strength — aside from casting lead actors with fantastic ranges of facial expressions — is its focus on a fascinating and underrepresented culture. The universal criticism of Season 3 was its wandering focus, best illustrated by the finale, which cut away from the main action to show tangential French characters engaging in medieval BDSM. Those tedious scenes felt like setup to an equally tedious spin-off to be called Fifty Shades of Medieval France.
Season 4 took note. The show genuinely has improved in integrating non-viking scenes into the plot in meaningful ways. The first episode features exactly zero cuts to Wessex, and Rollo's presence does wonders to enliven the Paris scenes.
As for the other characters, we can't give much away about Floki's situation, but rest assured that you will hear his signature giggle at least once in the first four episodes. You will also continue to want to punch Erlendur in the face. Or better yet, to sick Season 2 Rollo on him.
Vikings Season 4 premieres on February 18 on History.