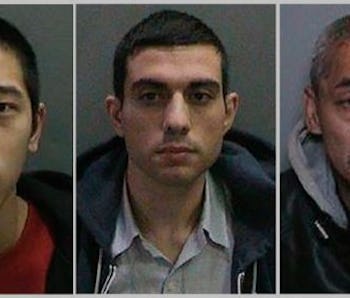 Culture
How Three California Prisoners Climbed to Freedom on a Bedsheet
This happens more often than you'd think.
Orange County Sheriff's Department
Three accused felons are on the run from California authorities after they escaped from an Orange County jail Friday night, and there's a total of $50,000 in reward money related to their capture.
It's still unclear exactly how inmates Jonathan Tieu, 20, Bac Duong, 43, and Hossein Nayeri, 37, escaped the concrete walls and barbed wire of the Central Men's Jail, but one thing we do know for sure is they used a makeshift rope woven from bedsheets and spare cloth. The trio also had to cut their way through a steel screen, though authorities are unsure what tool they used to carve out the rectangular hole they wormed through.
What's also known is that they had to pass the maximum security jail's plumbing system, slicing through layers of steel, metal, and rebar before completing their escape from the roof, rappelling down four stories with their homemade rope.
The U.S. Marshals Service is offering a $30,000 reward for information leading to their capture in addition to another $20,000 being offered by the FBI.
The Orange County Sheriff's Twitter account has put out several pictures of the building and escape route the prisoners took.
Maybe they decided to escape out of fear they'd be on the roll call of California inmates asked to fight next season's wildfires, or maybe it was the state's decision to deal with the water crisis by refusing to let inmates shower. Or, it could just be that the trio are really bad men. Tieu is charged with murder, Duong with attempted murder, and Nayeri with kidnapping and torture. They seem to have made their escape with at least less noise than El Chapo.
As you can see in this image, the group had little room to crawl their way out of confinement:
Then they had to slice through this razor wire to get to the unsecured part of the roof:
Climbing to freedom on a bedsheet-rope sounds like something out of a silent era comedy, but it's actually been a remarkably reliable escape route for prisoners over the years. Just this past September, two inmates at a Kentucky prison almost made it out with a bedsheet but their knot game wasn't on point and their rope broke halfway down the climb. More successful was parolee Ahmad Shelton, 26, who rappelled 14-stories down the side of Los Angeles' Hall of Justice using a monstrous 60-sheet rope. Shelton was so impressed with himself he even called the Los Angeles Times to brag about his bust out.
"This is a maximum-security place, you know, and I want everyone to know how easy it was," Shelton told the Los Angeles Times, announcing his own escape before the authorities could. "I can't believe the sheriffs haven't told you yet—why those dirty dogs."
Then there was this escape via bedsheet from a federal facility in Chicago back in 2012:
Assuming prisons don't just get rid of blankets all together, Instructables contributor Jesse Hensel thinks your best method is to tear the linen into strips and then braid yourself a rope. This was enough to hold his 220-pound frame for at least a short time.
Compare that to the one the inmates wove in secret:
In this most recent breakout, officials say the jail's older layout, with cells lined in a row, make it harder for deputies to see what's happening at all times. Modern jails and prisons use a more circular layout so that all cells are always easy to see.
If you have any information on the men's whereabouts, you can contact authorities on their hotline at (714) 628-7085.