33 Million Americans In Awe of a Blizzard Again
A Nor'easter named Winter Storm Jonas reminds us snow exists again.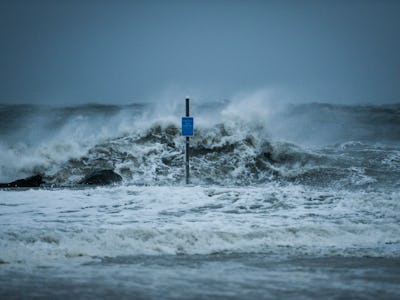 Getty
An estimated 33 million people woke up to "Winter Storm Jonas" today on the East Coast and into the south, from Connecticut to West Virginia and beyond. Before the reality sets in that everybody has to step outside, shovel through, and commute in this mess, there was a brief moment of wonder about snow, after a year that was the hottest on record.
The wonder didn't last too long, as updates from the National Weather Service became increasingly grim:
9:05 a.m.: Blizzard conditions to affect New York City, New England, New Jersey, portions of the Lower Hudson Valley, and Long Island. An intense snow band has developed over the region, with snowfall rates one to three inches per hour being observed. This band will move very little through the morning. Travel is not recommended due to whiteout conditions, winds gusts 40 to 50 mph, and roads becoming impassable.
The classic "Nor'easter" — a storm along the East Coast of North America, so called because the winds over the coastal area are typically from the northeast — is expected to last through Sunday.
While we pushed thoughts of blizzards like this one to the back of our minds after a record-setting 2015 — the hottest year on record — it's still a relatively balmy 25-30 degrees in the storm area.
Here was the scene in Manhattan:
Here's the blizzard as seen from the International Space Station, in a photo uploaded by astronaut Scott Kelly to Instagram on Saturday morning. Kelly writes that the "massive snowstorm blanketing the East Coast" is "clearly visible" from the ISS:
Thanks to NOAA and NASA, we also have this satellite image of the large winter storm. The Suomi NPP satellite snapped this image of the approaching blizzard using the Visible Infrared Imaging Radiometer Suite (VIIRS) instrument's Day-Night band.
Back on Earth, here's a car getting through the snow on Saturday morning in Philadelphia, where the city of Brotherly Love should get 18 inches of snow:
This NASA video shows the Winter Storm Jonas forming over the East Coast on Friday:
It's jarringly windy and cold out there, but it seems most creatures are taking a few seconds to admire nature.