This Heavy Metal Pianist Is Quietly Changing the Way the World Learns Piano
Vika Yermolyeva's piano covers are a YouTube phenomenon.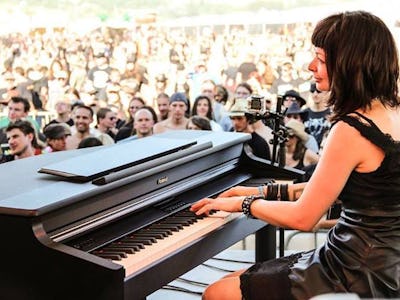 Before she started pounding out Nine Inch Nails or Metallica or Pantera or Iron Maiden, Vika Yermolyeva was all about mazurkas, polonaises, and etudes. The Ukrainian pianist comes from a strong classical tradition and boasts all the pedigrees befitting someone who has studied the great composers and mastered her instrument. What comes after that? YouTube, naturally.
"I had a YouTube channel for doing whatever I wanted. That's why I called it 'vkgoeswild,' and after posting some (now private) videos of me dancing or singing, I thought of playing some metal covers too," she explained to Inverse. She had seen other piano covers on the popular video-sharing site, but felt that they didn't do justice to the original songs that she loved ("I thought piano could do better.")
Yermolyeva says she's been a fan of heavier music "for as long as I can remember hearing rock. When I was 11 my favorite song was 'Mama' by Genesis. The beat was totally hypnotizing."
As she released more and more videos of unlikely piano cover songs to her YouTube channel, her internet stardom grew. Her videos now boast more than 90 million views, showcasing her musical talents everywhere from international music festivals to her own bedroom.
That kind of musical appeal was recently noticed by music education software company FlowKey, which recruited Yermolyeva's abilities to their cause. The company's app is perhaps best understood as "Guitar Hero for piano." Music students follow along on-screen with sheet music and a display of where your hands go during the course of playing a song. Your tablet listens along through its microphone, and as it identifies you are playing the correct notes, it advances to the next line of music. A sample of Yermolyeva's arrangements of popular heavy music is now available to learn through the app.
"I made lots of arrangements and recorded some of them at the FlowKey office," Yermolyeva told us. "The guys are really great and we had an awesome time." As this is an app aimed at beginning musicians, "some arrangements had to be made a bit less complicated and more friendly to play."
Yermolyeva's future simply consists of more piano performance, making more song arrangements, and releasing them through FlowKey for others to learn. You can get started learning piano through FlowKey by clicking right here.