NASA Has 200 Social Media Accounts. These Are the 10 You Should Follow Now
Instagram is cool. Space is fucking awesome.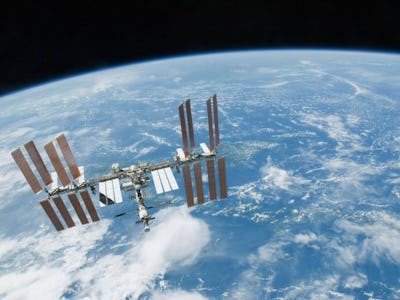 NASA Facebook
Though most government agencies don't ooze internet-savvy, NASA's social media presence is massive, confusing, and incredibly compelling. Given their numbers, chances are decent that you already follow them in some way — be it on Instagram, Twitter, or Facebook — but let us assure you they have other accounts and cooler accounts Every single NASA center and facility has its own set of social media pages. So different organizations and programs run directly under NASA, or are they affiliated with the agency in some way, as do the different ongoing major missions and research topics. And let's not forget the several dozen NASA astronauts and experts that have their own feeds to share.
Altogether, NASA lists 200 different people, organizations, or institutions that run at least one or more social media pages. We dug through them all to find out which NASA accounts possessed the coolest — and strangest — social media feeds. Here they are!
NASA Instagram (@NASA)
Easily the best social media page NASA runs. Though not as popular as NASA's Facebook and Twitter pages in terms of sheer numbers, the Instagram page is your go-to for all your space porn needs.
It's important to note this Instagram page often pulls from other NASA-affiliated accounts and reposts the best or most compelling images. So if you're following a ton of different space-related Instagram feeds, chances are you'll run into quite a few repeats. Still, this is by far one of the best Instagram pages you have the opportunity to follow.
NASA Vine (@NASA)
Well, it didn't take long to finally find a weird NASA social media page. NASA's Vine feed doesn't have the mainstream allure of its Instagram. No, the Vine page is just plain full of hypnotizing loops — some beautiful, some bizarre. Nearly all of them are 'revines' from other accounts, but this is still probably the best aggregate mix of space-related vines that let you embrace space as a series of flat-circle snippets.
If images and videos aren't enough, NASA has a Soundcloud page that's chock-full of all — and I mean all — the various kinds of space-related sounds you've been dying to listen to. From rocket engine sounds, to radio waves collected by different probes, and even what was sent up on the old Golden Record onboard the Voyager spacecraft back in 1977.
NASA JPL is responsible for some of the most amazing research and development done at the space agency — from creating and testing robotic spacecraft (like the Curiosity rover), to overseeing the NuSTAR x-ray telescope mission. Not so surprisingly, JPL boasts a fascinating and incredibly educational YouTube channel that offers a slew of different videos keeping NASA fans up to date on what's going on, as well as some really great mini-documentaries that explore some of the most captivating questions the agency as a whole is trying to investigate right now.
NASA360 Twitter (@NASA360)
I'll just let the account description sell itself:
"Artfully charming, award-winning, hipster-friendly NASA authority. Prone to fits of awesomeness. Friends of organisms everywhere. We make a TV show too!"
Although space exploration focuses on the future, there's plenty of amazing things to learn about NASA and its 60+ year history. The Facebook page is filled with a ton of amazing posts going over milestones and hidden factoids alike. It's basically a #tbt every day at NASA History.
NASA Space Biology Facebook
You want to talk about life in space? Go to this page, run by NASA Ames Research Center. 'Nuff said.
Women@NASA Twitter (@WomenNASA)
Perhaps the most important social media page on this list, Women@NASA is the official agency program dedicated to inspiring girls and young women to get involved with STEM research. Space exploration has been dominated by men since its inception. That's changing, and programs like this are part of the reason.
If you're obsessed with comets, asteroids, and other balls of ice and rock zooming around the solar system, you'll want to keep close tabs on this Twitter feed. If there's a big rock on its way to hit the earth and annihilate us all, Asteroid Watch will be the first to let you know.
Astronaut Scott Kelly's Instagram (@stationcdrkelly)
There are obviously too many astronauts and NASA scientists to follow, but the one you need to follow is Scott Kelly — currently hanging out at the International Space Station right now on his "Year in Space" mission to study the effects of long-term zero-gravity habitation on the human body. And while he's been there, he's been collecting some of the most incredible snaps of space you'll ever see. Take a look: