After a Rocket Crash, the Jason-3 Satellite Has an Environmental Mission
The satellite will monitor global sea levels to track climate change.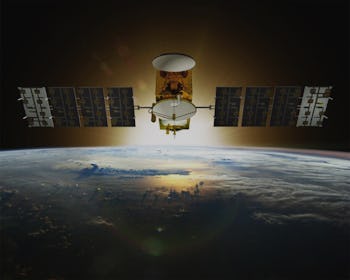 NASA; Twitter
NASA is celebrating the arrival of the Jason-3 satellite into orbit around the Earth. It's a big deal for the nation's scientists, even if the SpaceX Falcon-9 rocket that boosted it into space failed to stick the landing on a barge — the "droneship" — off the southern coast of California.
This morning, NASA is running its first sets of tests: The Jason-3 satellite will continue the quarter century-long missions of the Jason-2 and Jason-1 satellites by monitoring global sea levels to track among other things the progress of climate change.
"Jason-3 will take the pulse of our changing planet by gathering environmental intelligence from the world's oceans," said Stephen Volz, assistant administrator for the National Oceanic and Atmospheric Administration Satellite and Information Services.
Beyond climate change, it will assist in a variety of missions, providing information to help in "modeling of deep-ocean waves; forecasts of surface waves for offshore operators; forecasts of tides and currents for commercial shipping and ship routing; coastal forecasts to respond to environmental challenges such as oil spills and harmful algal blooms; coastal modeling crucial for marine mammal and coral reef research; and forecasts of El Niño and La Niña events."
The satellite launch was relatively routine, but given the multiple delays that predated it, everyone was anxious for a smooth arrival.
And conditions for the launch itself could definitely have been better.
No doubt, NASA administrators are breathing a sigh of relief as they track the satellite's progress. It's a much better job than having to explain a video like this: