Watch SpaceX's Jason-3 Launch Here
You can watch the SpaceX rocket launch at  1:42  p.m. tomorrow.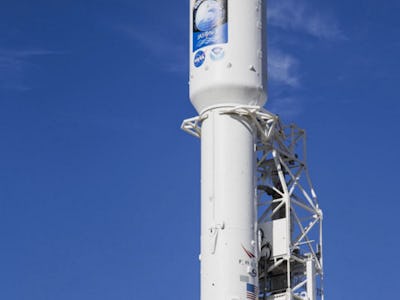 SpaceX Insagram
The SpaceX crew is getting all riled up and ready to fire another rocket tomorrow, Sunday, January 17, 2016, at 1:42 p.m. EST, from Vandenberg Air Force Base, California. The Falcon 9 v1.1 will be headed into low-Earth orbit on the Jason-3 mission for NOAA to deliver a satellite that will monitor oceanic topography and currents. The goal for SpaceX is to successfully land the rocket vertically on the company's drone ship in the Pacific Ocean today. It just posted the webcast on its YouTube channel.
Though last year's CRS-5 mission on January 10, 2015, managed to successfully launch from Cape Canaveral Air Force Station, its water landing was not as smooth. But then last month on December 21, 2015, a Falcon 9 nicely reached its landing pad after completing its ORBCOMM-2 mission, making history.
Tomorrow, the company tries again to reach its difficult watery target.
Earlier this week, CEO Elon Musk began tweeting about the launch and hasn't quite stopped since.
Today he retweeted SpaceX's photos of the vessel. The rocket is up and ready to rumble.
NOAA is also getting in on the photo action.
You can watch the mission on SpaceX's YouTube channel or at NASA TV.