EPA Science Advisors Admit That a Landmark Fracking Study Ignored Dangers 
The panel is urging the agency to reconsider claims that the controversial extraction method is safe.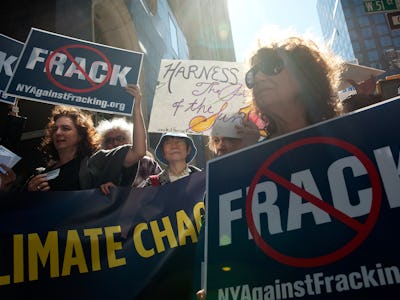 Getty
Fracking has no "systematic" impact on water quality, according to a preliminary EPA report released over the summer that's just now being scrutinized by the agency's own advisory board.
The EPA report concludes in Government Speak that fracking doesn't affect groundwater.
But these conclusions are supported only if you ignore contamination like that reported in Pennsylvania, Texas, and Wyoming, which critics claim is exactly what the EPA did.
Previous studies found fracking was linked to birth defects, increased risk of lung disease, methane contamination in the water supply (see that GIF below), and elevated endocrine-disrupting chemical activity in groundwater.
People living near the wells are twice as likely to have upper-respiratory issues or skin problems. Critics say the industry lacks appropriate safeguards.
"Spill data alone gives sufficient pause to reconsider the statement," Bruce Honeyman, professor emeritus at the Colorado School of Mines, told Alternet.
And speaking to Bloomberg, James Buckner said the report reaches for conclusions using only limited data.
"I do not think that the document's authors have gone far enough to emphasize how preliminary these key conclusions are and how limited the factual bases are for their judgments," said Buckner, a professor of pharmacology and toxicology at the University of Georgia.
Meanwhile, fracking industry lobbyists and trade groups accuse the panel of being ideologically driven. American Petroleum Institute president Jack Gerard did all but stop short of calling it a smear campaign by environmental activists who oppose fossil fuels.
The panel will hold a public teleconference to discuss the report on February 1 before sending final recommendations to the EPA.