Is Lorde Working on a New Album, or What?
What's going on with the New Zealand-born pop star's follow-up to 'Pure Heroine', and what has she been up to in the meantime?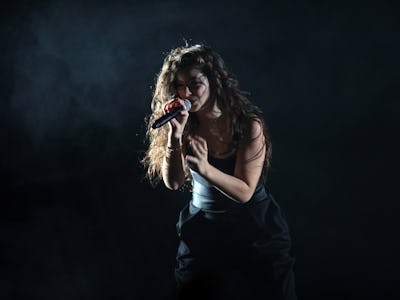 Getty Images
When a pop star bursts onto the scene with a captivating debut record, we are impatient to wait around for a follow-up. It feels like the more we use social media to pressure an artist to hurry up and release something, the longer it takes for a piece of work to materialize. Unfortunately, the public usually has little say in the timing of these releases — an artist will release something when they are ready or when their team sees fit. Since Ella Marija Lani Yelich-O'Connor, better and more conveniently known as Lorde, released her sensational debut album *Pure Heroine" at the end of 2013, the New Zealand-born pop star has been floating around the pop culture sphere. But it's already 2016, and we barely know anything about her follow-up record. Lorde, where you at?
The lengthy amount of time that's passed since Pure Heroine, on the one hand, makes plenty of sense: when artists release debuts as impressive as Lorde's, they obviously need time to tour the album, and they also deserve to bask in the success of their well-received efforts. At the same time, the longer an artist stalls the release of a follow-up, the angrier everyone gets (which is admittedly unfair since we generally have no idea what goes into this process) and expectations begin to skyrocket. Grimes, for example, exceeded expectations with the immaculate pop masterpiece that is Art Angels, her 2015 follow-up to 2012's Visions, but you had better believe the internet was haranguing her for three years. Frank Ocean is maybe the best example of this phenomenon, as his delay to follow up 2012's critically acclaimed Channel Orange has nearly become a joke, a way to gauge the passing of time. So, what has Lorde been doing since the end of 2013?
Going back to 2014, in April she joined St. Vincent, Kim Gordon, and the remaining members of Nirvana on stage at the Rock and Roll Hall of Fame inductee ceremony to cover "All Apologies." Regardless of your opinion on the polarizing rendition, there Lorde was in a hot pink pant suit, hovering close to the mic and doing her signature, twitchy dance moves.
In the spring of 2014, Lorde embarked on her Pure Heroine tour, with the first performance in Austin. For the fall leg of the tour, she was joined by Majical Cloudz and consistently covered Kanye West's "Flashing Lights."
In September 2014, Lorde released her contribution to The Hunger Games: Mockingjay Pt. 1 soundtrack called "Yellow Flicker Beat," which was her first single since 2013's Pure Heroine. The song was nominated for a Golden Globe in 2015, and although it didn't win, we got to see Lorde hanging out with Taylor Swift and Selena Gomez at the ceremony. The beginnings of a legendary squad, indeed. In July, Lorde joined Swift on her 1989 tour in Washington, D.C. where the two performed a duet to Lorde's breakout single "Royals." Shortly after, there was a stage malfunction and Swift got stuck on a high up platform for quite some time, but that's a different story.
Like any famous personality finding their footing after an explosive introduction, Lorde showed up at a New York Fashion Week show, and not just any show. She sat sandwiched between Givenchy designer Riccardo Tisci and Kourtney Kardashian at the Yeezy Season 2 show. She also raised some concern with an ostensibly infected eye, but kudos to her for braving perhaps the most superficial, star-studded scenario in New York with a visible ailment.
Lorde closed out 2015 with a Vogue debut and an SNL performance with Disclosure of their song "Magnets," which she definitely did not lip sync. It flatters her that some people thought so, though.
And that brings us to 2016. According to a New Zealand website called Newstalk ZB, Lorde just purchased her first property, a villa in Auckland for almost $3 million. As far as a follow-up album goes, Lorde apparently whispered the album name to her mom in the car the other day, but none of us were there in the car with Lorde and her mom, now were we?
It looks like Lorde is going to leave us hanging for a bit longer, but at least we know there are some exciting developments to come in 2016. There's a fine line between skillfully teasing your fan base and repeatedly delaying a follow-up, so hopefully Lorde is aware of the risk she is running. For now though, let Lorde live.