Watch a Rescued Turtle Be Released Into the Sea, Live on Periscope
This is a great way to spend your Sunday.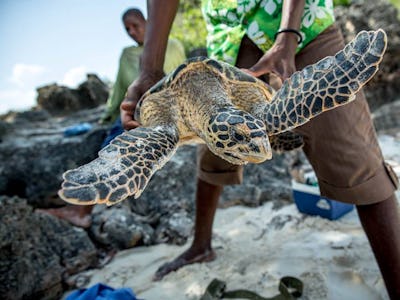 HerdTracker
While nursing your hangover — no judgments! — this Sunday, why not watch a newly rehabilitated turtle take its sweet, slow time easing back into the wild? Vaya con dios, turtle friend.
Such wonder is brought to you by the Watamu Turtle Watch, which will release the healthy turtle with a camera on its back so you can watch it kick around the Indian Ocean off the coast of Kenya at 2 p.m. Sunday.
One turtle headed back out to sea today:
Sunday's live broadcast, supported by Make It Kenya and HerdTracker, can be found at HerdTracker's Periscope account. Earlier this year, HerdTracker had great success brining the usually expensive spectacle of Africa's great wildebeest migration to the masses, and the continent's tourism industry is increasingly turning to them to broadcast wildlife events.
You can ask questions about the release during the live event or simply enjoy the turtle's return to its natural state.
The broadcast announcement does however note this is part of the #KenyaLive campaign to "showcase Kenya's stunning wildlife as well as their coastal underwater treasures — as the action happens in real time."
Invite a friend.