Hurricane Alex Heads Toward the Azores
An extremely rare weather event, it could bring destruction to the Portuguese archipelago.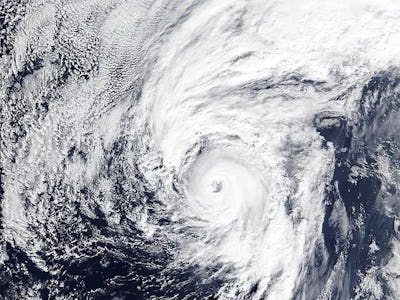 instagram.com/tornado_statistics
As of Friday morning, Hurricane Alex was churning northward across the Atlantic Ocean toward the Azores.
Hurricanes in the Atlantic in January are rare—the last time this happened was 1938—but the conditions happened to be just right. Usually, warm water is a catalyst for such a storm, yet the ocean under Alex is currently registering at only 68 degrees. However, the air above it is a frigid -76 degrees—a disparity in temperatures that can give rise to a cyclone.
Maximum sustained wind speeds have reached 80 mph, making Alex a Category 1 hurricane. The National Hurricane Center reports Alex is the first tropical or subtropical storm to form in January since 1978, and only the fourth to form in January since records began in 1851.
The National Oceanic and Atmospheric Association (NOAA) points the storm's path toward Greenland by Saturday. As for the Azores, forecasts call for 3-7 inches, which could result in flash floods, storm surges, and mudslides.
It was only the last week of December 2015 when "Storm Frank" moved over the Atlantic and struck Iceland and the UK.