'Freak' Storm Heads Toward Iceland
It could raise temperatures in the North Pole by 50 degrees, and feature hurricane-force winds.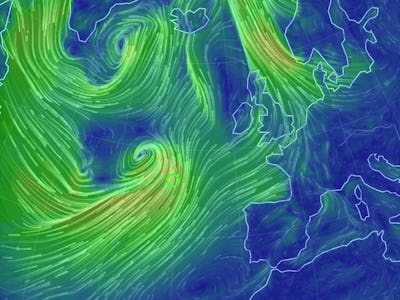 instagram.com/briankenny85
The same weather system that unleashed tornados in Dallas Sunday is now heading toward Iceland, and could evolve into one of the most powerful storms ever recorded in the North Atlantic.
The Iceland Monitor reports that an area of extremely low pressure will be approaching Iceland Tuesday evening from the south, charging in with intensifying easterly winds.
Hurricane-force winds could potentially gust for hundreds of miles across the event span.
The Washington Post states that the system could, by Wednesday morning, dip to a minimum pressure near 923 mb at its maximum strength, riding across and above the ocean along a jet stream at 230 mph. By comparison, Hurricane Andrew, a Category 4 hurricane, fell to a central pressure of 922 mb when it struck Dade County, Florida in August 1992. Superstorm Sandy made landfall in New Jersey in October of 2012 at 945 mb.
Away from Iceland, the storm could draw a particularly large surge of warmth northward, driving temperatures at the North Pole (which normally in December are expected to be in the area of -20F) to above the freezing mark—and the UK Met Office has warned that this weather event (which it has officially named "Storm Frank") "is likely to bring a swathe of gale and severe gale force winds across parts of Northern Ireland and Scotland later on Tuesday and at first on Wednesday."