Watch the Pilot of Comedy Central's 'Idiotsitter' for Free Right Now
Jillian Bell's and Charlotte Newhouse's new Comedy Central show 'Idiotsitter' premieres tonight, but you can watch the first episode online now.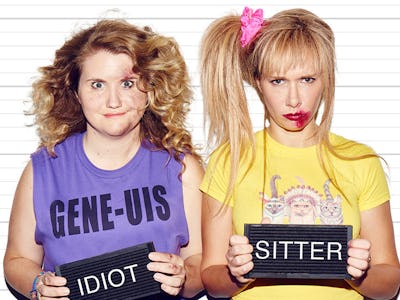 Comedy Central
The new comedy Idiotsitter from Jillian Bell and Charlotte Newhouse premieres tonight on Comedy Central, but you can already watch the first episode online. Originally a CC web series, Idiotsitter promises crude humor and plenty of hilarious, juvenile banter from its leading stars.
In the new series, Newhouse plays Billie, a recent Harvard graduate who accepts a gig babysitting a millionaire's 7-year-old to help pay off her loans. However, the job turns out to be babysitting Gene (Bell), an immature, crass 30-something-year-old on house arrest. Hesitant about the position at first, Billie accepts the job when she sees the huge amount the job pays. The humor in the show stems from the rift between Billie's uptight, prudish personality and Gene's unruly indecency, and based on the pilot, it seems there will be plenty of absurdity to laugh at as the season continues.
Click that link in the first graf to see the whole episode first and probably laugh at some things that will make you feel bad immediately.