Oscars Snub "See You Again" by Wiz Khalifa, Who Deserved Better
Wiz Khalifa and Charlie Puth's song for 'Fast and Furious 7' isn't going home with the gold. Why the hell not?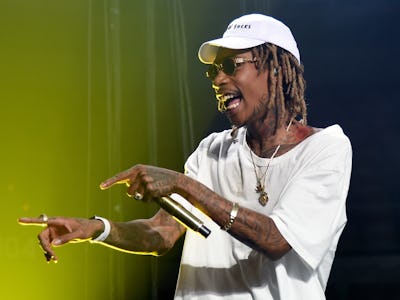 Complaining about Oscar nominations in 2016 is a waste of time. It was a waste of time in 1986, but it somehow feels worse now —presumably because of the internet. The buildup from the nomination announcements to the ceremony itself is nothing but a month of masturbation; their choices of what to hold up above the rest is wholly self-serving and to expect anything besides that is foolish. For example, this is why I'm completely unsurprised that something like The Revenant, possibly the bait-iest Oscar bait in the millennia-long history of bait, earned so many nominations — it's a film that celebrates visual storytelling by auteurs, possibly underheralded but very rich male actors doing stuff with bears, visionary (male) directing, and other celebrated and expensive aspects of capital-F filmmaking. Cruising through the ballot, you'll see a ton of names you recognize from performances you've seen or heard about, to the point where even the WILD CARD! stuff (Stallone in Creed) is predictable, boring, and clearly compensating for the snubs of Ryan Coogler and Michael B. Jordan. This is the way it is every year, and it will probably never change.
All of that being said, there's something that makes me feel snubbed — it's the omission of Wiz Khalifa and Charlie Puth's "See You Again" in the Best Original Song category. My gripe has little to do with what else is nominated; the Weeknd's "Earned It" from the Shades of Gray soundtrack will probably win because of it chart success, ubiquity, and the fact that the Weeknd is extraordinarily well-represented at that other industry back-patting party, the Grammys. The problem is more about the sentiment. While "Earned It" and Sam Smith's "Spectre" had prominent placements in their Academy-friendly blockbusters, those spots were not even close to as affecting as "See You Again" was in Fast and Furious 7. If you weren't moved by this and its accompanying montage celebrating the life of Paul Walker, I'm comfortable saying that you, dear reader, are a monster. Though not liking Wiz and Puth's saccharine hit is the "cool kid" opinion du jour, the song soared at #1 on the Billboard chart for 12 weeks last year. (It might also suffer, reputation-wise, for the sins of Puth's "Marvin Gaye," which I can't argue the merits of).
There's another reason the casual Oscars observer should be upset — its snub deprives us of what could have been a cool moment in a droll ceremony. Most of the Oscars' energy, or lack thereof, is because of the music and the performance that serve as interstitials to the presentations. Who could forget when Three 6 Mafia won for their song in Hustle N Flow, and the joy that radiated from the stage as the three underground Memphis lifers were handed Oscars? When Elliott Smith performed "Miss Misery" in 1998 — he lost to Celine Dion's "My Heart Will Go On," which is a great footnote — it immediately became a performance that millions revisit annually.
Listen, we'll all probably have to watch the Oscars; our social networks will be jammed with it, the friend that always kind of over plans will have some kind of function for it you'd feel guilty for skipping, there's a chance a relative will ask you something about it and knowledge of what transpired will grease an otherwise awkward conversation. ("Jennifer Lawrence had a low key down year, but I'm not surprised she won!" is the line I've memorized). The ceremony, especially in modern times, is long and insufferably boring, leaving almost nothing for a younger audience to chew on. This year's slate, like all year's slates, will celebrate Cinema, though they've thrown a bone this year to a film that celebrates Journalism (Don't worry, it won't win anything). Not having Wiz, ever the generous performer, out there is a detriment to the ceremony, even outside of the blasphemy of omitting the year's biggest song in the year's biggest non-Star-Wars blockbuster that was utilized in its most sweeping and human moment.
"See You Again" deserved better.