Lady Gaga Is Joining Cher, Madonna, and Streisand as a True Crossover Star 
With a Golden Globes win and an Oscar nomination, she's having a monster of a year.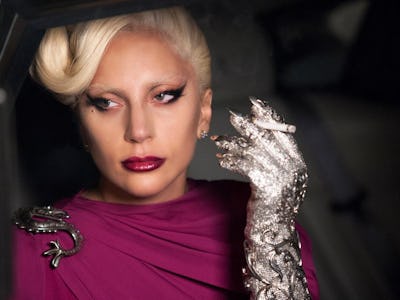 Facebook
When Lady Gaga won a Golden Globe on Sunday night for her performance as the Countess on American Horror Story: Hotel, it wasn't only Leonardo DiCaprio who was surprised. Gaga replaced Jessica Lange on the fifth season of American Horror Story, whose brilliant and steadying performances in the first four seasons made the leading female a daunting role to fill. Now, days later, Gaga's song "Til It Happens to You," which she cowrote with Diane Warren for the film The Hunting Ground, has been nominated for an Oscar. The mere nomination has to put her in the conversation with the short list of stars to take over Hollywood as musical performers and as actors. We're counting the likes of Madonna, Cher, and Barbra Streisand. And, really, that's about all.
Gaga's Oscar nomination comes a year after her performance at the 2015 Oscars, where she objectively slayed a gorgeous Sound of Music tribute. Gaga wasn't exactly losing steam prior to that performance because, like any major pop star, she will always have her diehard fans. But the Sound of Music tribute reminded the world that Gaga the all-purpose performance artist is also Gaga the hellaciously talented singer. Clad in simple, elegant apparel that defied her weird-for-the-sake-of-being-weird early 2010s aesthetic, she demonstrated straightforward, gimmick-free vocal talent.
The rebranding mission was on. Gaga was dialing down the ostentatious superstardom and tapping into a more refined, well-rounded approach to her career. In other words, she appeared more inclined to dance cheek to cheek with Tony Bennett than hatch out of a giant egg on stage or wear a dress made of meat. When it was announced that Gaga would play the role of the ruthless vampire Countess on American Horror Story's fifth season, her intentions became even more transparent. She wanted people to start taking her more seriously and regard her as a dynamic talent.
That trajectory continues with this Oscar nomination and Golden Globe win within the same week. That resume is getting pretty damn bulletproof. Perhaps most importantly for Gaga, these recognitions separate her a bit from Madonna, Gaga's clear muse in so many endeavors, who is a great actress but has never been nominated for an Oscar.
If Gaga keeps piling up the hardware, she'll be collecting the sorts of accolades that Cher and Barbra Streisand have achieved. Cher won a Grammy in 2000 for her song "Believe" several years after her 1984 Oscar and Golden Globe wins for her performance in Moonstruck. And Streisand has won ten Grammys, two Oscars, and several Golden Globes. With her six Grammy wins, the new Golden Globe, and an Oscar nomination, Gaga could be well on her way to joining them. You've got to give her a hand. She lives for it, after all.