Pandora Predicts Grammy Wins for The Weeknd, Wiz Khalifa, Meghan Trainor
Pandora uses their wealth of data to predict Grammy winners. Here are the results.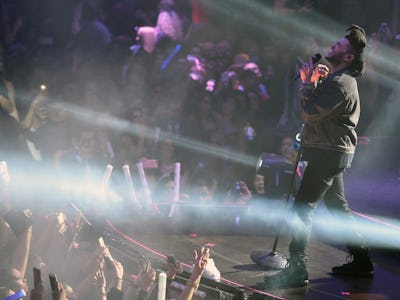 In advance of the 58th annual Grammy Awards, which will air February 15, the massive, data-loving streaming service Pandora has shared predictions for all the big awards, including Album of the Year and Song of the Year. And the (extremely hypothetical) winners are:
Here's the company's publicist explaining the rationale:
The winners were determined by pulling the overall number of spins for the track in the last year, and comparing that to the number of thumbs up. With this approach, we were able to see which tracks saw the most thumbs up per spin, and normalized for total volume of play, as the size of the artists can vary by category. For the categories that were not for a single track, we aggregated across all tracks on the album, or for all artist tracks released within the eligible timeframe.
Although the metric they're using is a pretty simple one — it's "thumbs up per spin", which gives us a wide, macro look at the contenders based on bulk user actions — it feels like this could actually be a decent way to account for this year's batch of Grammy contenders. The Grammy voting process involves around 300 Recording Academy members, who must cast their votes before the hard deadline on January 16. (Here's a full explanation of the process). Given that these votes almost always account for taste — votes aren't weighted in any way, though the Recording Academy voting base doesn't have much turnover — and anything halfway scientific might be the wrong way of looking at this.
So, sizing up the predictions, it's hard to find anything that looks too wacky. Taylor Swift and Kendrick Lamar both occupy the Album of the Year field, and given that those two artists have dominated the 2015's music world narratives, picking something like Chris Stapleton's Traveller seems like a reach for Pandora's model. (Though Stapleton blazed through the CMAs, picking a traditional, roots-y country record that has already been anointed by its own industry for AOTY doesn't seem like something the Academy would do.) But other than that, candidates like Meghan Trainor and Wiz and Charlie Puth's "See You Again" would be heavy favorites.
The only surprise here is that rock music has lost so much cultural cache that Highly Suspect — singers of that song "Lydia" you might have heard of just now — aren't famous at all. Goes to show just how unpredictables awards shows can be when music is so heavily segmented. Viewers will, no doubt, have two reactions when the real winners are called: "Nice!" and "Who?"