Will 'Classic Man' and Janelle Monae Sidekick Jidenna Make a 'Classic' Album in 2016?
All signs point to 'yes,' if the public keeps paying attention. Recent tracks, 'Long Live the Chief,' 'Knickers,' and 'Extraordinaire' point to interesting and infectious possibilities for the dapper rapper and singer.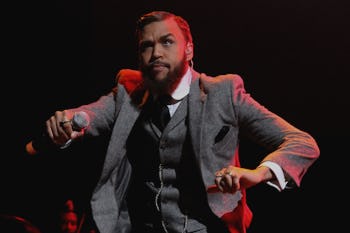 Getty Images
"Some people look at 'Classic Man' like it's something processed, but then they realize, 'Oh, this guy actually is that man'…This year will be a year where I show other sides. For now that's what they'll know, and tomorrow they'll know a lot more."
So the dapper and mysterious singer and rapper Jidenna Mobisson (who goes simply by 'Jidenna') claims in a recent Billboard video interview. Jidenna's ratchet&B hit, "Classic Man," of last year took its musical cues from DJ Mustard rip 'Fancy' by Iggy Azalea, but actually an oddly sincere anthem espousing the virtues of dignity, honesty, and style. It was one of those songs that strikes one as comical or grating at first pass, then gradually becomes first an undeniable earworm and finally a party playlist staple. In other words, it has all the novelty and can't-get-away-from-it ubiquity of a one-hit wonder.
Can a specific, eccentric personality like Jidenna maintain a career, and be taken seriously? He has the structures in place to maintain visibility, with the support of Janelle Monáe, to whom Mobisson plays sidekick, and her label Wondaland Records. Their collaborative, trap&B single, "Yoga," did not reach the status of "Classic Man," but nonetheless charted at #79 on the Hot 100, and implanted Jidenna as a staple of Monáe's creative universe — relatively stable, two LPs, and an imprint under Sony/Epic into her career. The Eephus was released in August, a collaborative EP featuring "Yoga," the original "Classic Man," and a remix featuring no less than Kendrick Lamar. The release hit #5 on the Top Hip-Hop/R&B Albums.
Unfortunately, though, Jidenna's follow up solo single, "Hail to the Chief," and two other new leaks from his still-untitled upcoming LP — "Knickers" and "Extraordinare" — have not yet found chart success. "Long Live the Chief" is some detuned, militaristic boom-bap with a beat that could suit Pusha T at his most pugilistic, full of oddball quotables ("I Air'n'B the crib like a hostel"). Jidenna raps deliberately and deftly, slightly like Kanye.
"Knickers" is a horn-punctuated bit of pop trap, full of interesting rhythmic pivots and weird synth breaks. It's as borderline irritating and amazingly catchy as "Classic Man," aping the flow construction of YG's 2014 hit "My N*gga." It's definitely got the most hit potential of anything Jidenna's released outside of "Classic Man."
"Extraordinaire" follows logically from the ratchet/club music leanings of "Knickers" and "Classic Man," and, like the latter song, it packs some surprising observations — politically and sociologically charged — into the Autotuned verses ("They push strollers in the midnight as if Jim Crow disappeared/Yoga mats are on their back, they walk around without a care"). The instrumental breakdown is pretty solid as well, with the production morphing briefly into reggaeton.
If there's anything the newest Wondaland music evidences, it's that Jidenna and Janelle are aiming for chart-topping success, pivoting away in the more aggressively experimental, genre-mixing music on Monáe's first two albums. In a promotional video for the "Classic Man" video, Jidenna explains that one of his career goals is based on infiltrating and reshaping mainstream music — the metaphor he uses is "bring[ing] organic food to Walmart."
Is this going to be possible? If people keep paying attention — and the songs keeping being as intriguing as these last few leaks — Jidenna could very well sustain his crossover success. This LP could very well be one of the more solid and (definitely) unusual pop-rap releases of this year. Jenerals, unite!
This message has been brought to you by #JidennaHive.