The 'Power Rangers' Enter 2016 With BOOM! Studios
Constantine, Batman, the Ninja Turtles, and Marvel's Secret Wars fill out the first Pull List of the year.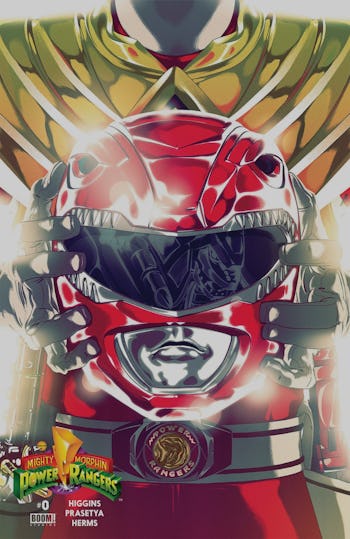 Welcome to The Pull List, Inverse's weekly roundup of new comic book releases worth picking up. Whether you're a longtime fan or a newbie reader, you can rely on us to guide you through today's hottest issues that will be tomorrow's classics. This week, Batman continues teaming up with the Ninja Turtles and the Man From U.N.C.L.E., Marvel's Secret Wars finally ends, and the Power Rangers get started.
Secret Wars #9
At long last, Marvel's 2015 game-changing crossover ends … in 2016. We've already seen the effects of "Secret Wars" in the newest titles published since last fall, but only one word sums up what Jonathan Hickman's final issue in the series is all about: Genesis.
Batman/Teenage Mutant Ninja Turtles #2
The Turtles are still getting used to their new surroundings of Gotham while Batman and Lucius Fox try to pinpoint the origins of the city's new ninjutsu-skilled neighbors. Meanwhile, Shredder strikes a deal with none other than the Penguin.
Batman 66 Meets the Man From U.N.C.L.E. #2
Elsewhere, the Batman from the classic 1966 series continues yet another team-up, this time with the Ruskie-American duo from U.N.C.L.E. It's funny when you remember that Henry Cavill was in the movie last summer.
Constantine: The Hellblazer #8
Constantine finds himself helping arch nemesis Papa Midnite once again when the enigmatic Mr. Rumor takes over Midnite's club with precious, dangerous artifacts inside. Let James Tynion IV's wickedly good monthly series fill the void that NBC cruelly left empty.
Silk #3
Robbie Thompson's next issue in Silk pits Cindy against ex-bae Spider-Man and the Goblin King. She's not any closer to finding her family even with the help of S.H.I.E.L.D., but maybe squaring off against Goblin King will give her what she wants.
Mighty Morphin' Power Rangers #0
Kyle Higgins (from DC's Nightwing) has successfully brought the '90s superheroes the Power Rangers into 2016. While Angel Grove's favorite teens now text with emojis and upload study guides to the cloud, this prequel/preview issue still follows the show's continuity from 1993 and picks up after the iconic "Green With Evil" saga. Tommy, the new Green Ranger, is struggling to cooperate with people he once considered sworn enemies, and if Rita Repulsa has her way, Tommy never will.