This Helmet Could Save Football
A Seattle company is out to build a better helmet.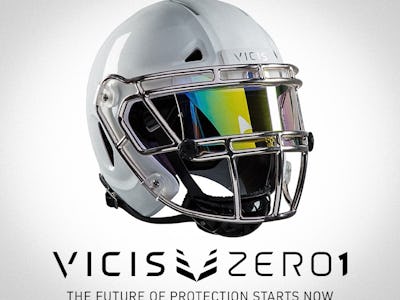 VICIS
The NFL reported a 25 percent drop in concussions in 2015, a move in the right direction but still not nearly enough when you consider the grim cautionary tales. So the NFL and NCAA's announcement that teams will start using a helmet described as "a car's bumper" — in that it crumples on impact — is welcome news.
Seattle-based startup Vicis has unveiled its ZERO1 helmet, the result of two years of researching and testing to build a more protective headgear.
The helmet features a unique outer shell layer which is designed to mitigate the force of a blow, and four layers of protection developed in partnership with the University of Washington's departments of mechanical engineering and neurological surgery.
"We don't have that hard polycarbonate shell," Vicis CEO Dave Marver said during the GeekWire Summit in October.
"We have a multi-layered system with a novel outer shell material and a novel engineered structure. We've redesigned the helmet from scratch to provide protection against not just skull fracture, but from traumatic brain injury or concussion."
A core-layer features bendable struts that let the helmet crumple, for lack of a better word, and absorb impact.
Because that cliche about necessity being the mother of invention holds true, the concussion tech market has boomed in recent years with everything from shock-registering mouth guards to alarms in the helmets that will go off if a player is hit too hard.
The downside is the price: $1,500 is the initial price per helmet, which puts it out of reach for all but the wealthiest teams, and unless they've got an exceptional booster club, high school players can forget about suiting up with a ZERO1 even though they face an even greater risk of concussion than their collegiate counterparts. A cheaper model is supposedly in the works, hopefully one you can order on bake sale profits.