The Odds-On Favorite Actors on the Han Solo Standalone Movie Shortlist
Who will play young Han Solo? Let's break down this short list.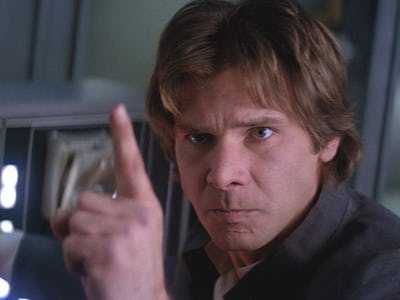 StarWars.com
It looks like Lucasfilm declined our advice. Sorry, Jamie Bell, Nick Robinson, Anthony Ingruber, and Taron Egerton, you are unfortunately probably not on the shortlist of actors that have been whittled down from over 2,500 auditions to play the role of young Han Solo. That's according to a report by Variety that says producer Kathleen Kennedy, directors Phil Lord and Chris Miller, and executives at Lucasfilm have narrowed the search for the young actor who will take over the role from Harrison Ford for the upcoming standalone adventure. No surprise, it's a bunch of nearly indistinguishable white dudes.
Variety says the list of actors is down to about a dozen potential scruffy-looking nerf herders, but their sources name only eight possible leading men including Miles Teller; The Fault in Our Stars' Ansel Elgort; James Franco's brother Dave Franco; Transformers: Age of Extinction supporting actor Jack Reynor; son of Clint Eastwood, Scott Eastwood; that kid you think you've seen in every YA movie adaptation ever, Logan Lerman; Brooklyn and The Place Beyond the Pines co-star Emory Cohen, and Everybody Wants Some actor Blake Jenner.
Curiously enough, Variety is quick to point out that the shortlist isn't in preparation for the standalone movie at this point. Instead, Lucasfilm appears to be taking a cue from fellow Disney ATM Marvel and hoping to plug the young Solo into a quick cameo in the upcoming standalone movie Rogue One for some cinematic universe synergy. Rogue One will debut in theaters on December 16, 2016, a month before the Han Solo movie is scheduled to shoot in January 2017 for a May 25, 2018 release.
The actors named fall within the ranges of 20 to 25 years old, except for Eastwood, who is 29. Do the math and that backs up the comments made by the movie's co-screenwriter Lawrence Kasdan about the movie taking place a decade before the events of A New Hope. Harrison Ford was 35 when he shot the original movie in 1977.
We know one of Han's favorite sayings is "Never tell me the odds," but who can we bet on suiting up in that iconic vest and jumping behind the controls of the Millennium Falcon to take on the Kessel Run in less than 12 par-secs? Let's break it down.
Miles Teller - 40 to 1
Teller is just too goofy and self-deprecating to be Han Solo, but people seem to want to keep giving him a chance. He seems like a longshot because he's still one degree away from Fantastic Four director Josh Trank, who was unceremoniously dumped from a standalone Star Wars movie or exited under his own volition, depending on who you ask.
Ansel Elgort: 5 to 1
Most literary name always gets the part. But seriously, this up-and-comer seems unformed and on the cusp of becoming a straight-up charmer. He's exactly where Han needs to be during his standalone movie.
Dave Franco: 100 to 1
No way. Nope. Can't happen. This. Is. Not. A. Possibility. Under the Franco Rule any relation to James Franco immediately disqualifies you, and unfortunately Dave is his little bro.
Jack Reynor: 20 to 1
If this American and Irish actor is able to transcend that creepy scene in Transformers: Age of Extinction where his character uses a "Romeo and Juliet law" to sidestep statutory rape then he might have a shot.
Scott Eastwood: 10 to 1
The dude is obviously handsome enough, but would the filmmakers want someone with such a Hollywood pedigree to just step into Star Wars like that? Carrie Fisher's parents were Hollywood royalty after all, and Eastwood seems lighthearted and charming enough in real life to contrast that rugged exterior.
Logan Lerman: 25 to 1
If they were making a standalone grade school Luke movie then Lerman could be at the top of the list, but he's too much of a scamp to seriously step into the role of Han Solo. Would you plausibly be able to call this kid a scoundrel? Not likely.
Emory Cohen: 15 to 1
Cohen is more unknown and maybe a bit too hard-edged than some of the other candidates, which could work to his advantage when trying to separate himself from the pack. Scoundrel? Yes. Charmer? Probably.
Blake Jenner: 5 to 1
Thank god he is not Kardashian related, but he is Glee-related. Despite appearing on the Fox musical comedy mess for three seasons, Jenner is the perfect mix of awkward and dashing. If he's good enough to be the lead in the new Richard Linklater movie then he's good enough for anyone.