Costco Is Selling Those 'Ip Man' Wooden Kung-Fu Training Dummies in Japan
Master the art of Wing Chun within the same trip you stock up on shampoo.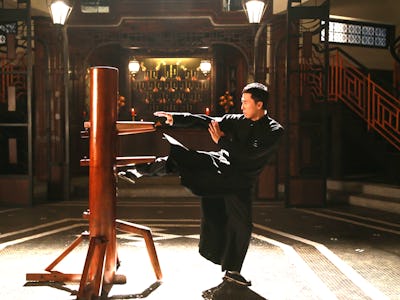 Well Go USA
Ever wanted to become a master in Chinese kung-fu? You have two options. You can A) move to the remote mountains and devote your life in a monastery, or B) hit up Costco and buy a training dummy for $600.
Hong Kong tabloid Apple Daily is reporting that a Costco retailer in Sapporo, Japan has begun selling wooden training dummies typically used by kung-fu practitioners, which have sparked in popularity due to their use in the Ip Man movie franchise.
A few images have popped up on Instagram, and though our translations are rough the comments basically sum up thus: Who would buy this?
These ancient tools of martial arts are retailing for ¥69, 980, which comes to approximately $600 in the United States.
While used throughout history in Chinese martial arts, the training dummies entered modern pop culture due to their use in the Ip Man movies starring Donnie Yen (who has a leading role in Rogue One: A Star Wars Story, which comes out December 2016).
Wilson Yip's dramatic Ip Man series is based on the life of Ip Man, the renowned mid-20th century Wing Chun master and teacher of Bruce Lee. The latest installment, Ip Man 3, was released December 24 in Asia. Although the films have not been released theatrically in Japan, they remain popular with cinema enthusiasts throughout the region.
While once upon a time lifelong dedication and discipline was needed to master martial arts, modern convenience has streamlined that process to $600, in between home improvement and toys. We reached out to Costco and asked if the popularity of Donnie Yen and Ip Man means we'll see these dummies sold here in the U.S., and we'll update when we learn more.
In the meantime, Amazon has you covered. The online retailer sells a portable attachment available for $140 and this regular-sized dummy (below) for $580: