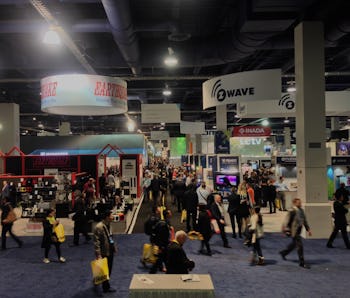 Innovation
The Tech Industry Suddently Wants Customer Feedback But Won't Shut the Hell Up
These days, technology is as intimate a part of our lives as our clothes, pets, and even emotions.
Neel V. Patel
If CES 2016 was about anything, that thing was the abstract idea of intimacy. Tech companies want to make tech that, at minimum feels personal. The phrase "plug and play" is no longer considered a compliment. The major companies at the annual Las Vegas grin, greet, and bear it were selling items intended to extend selfhood, to enrich your life in a multidimensional ways.
In some ways, the movement towards intensely personal tech is the result of increased development into A.I. technology. For many techies, the dream is to take advantage of software that can absorb large amounts of data relatively quickly, analyze it, and address the needs of users in a way that's intuitive and seemingly human. The notion of an intelligent bot like Samantha in the movie Her, that learns about our personality and habits and interacts with us in a very human manner, feels more inevitable than crazy. But technology remains hard to love. Friendship will come first.
At Toyota's press event, the company detailed a vision of the car as more than an inanimate, useful tool. The next Toyota will be "teammate" in an individual's life. The company's new research initiative in A.I. and robotics is meant to, in part, augment that relationship and make it so that someone's specific mobility machines can mold exactly to someone's preferences in a way other machines can't currently do.
A.I. wasn't the only way tech is becoming personal. The rapid rise of 3D printing has encouraged innovators to think about design beyond previous physical limitations. In the future, if you have a new design idea that hasn't been done before — ranging from shoes, to buildings, to cakes — a 3D printer will be able to make it into a reality. Consumers won't be limited to buying products. They'll be able to buy into the supply chain and create products to suit themselves.
This year, virtual reality made a particularly big splash at CES — thanks in no small part to Oculus opening up preorders for the consumer version of the Rift. There's little need to explain why VR feels personal — the only question is how long until VR companies have succeeded in pretty much allowing any individual to experience 3D simulations of basically any place on Earth, or any experience had by humans. VR has a capacity to not just tell us stories, but to live them (to a certain extent). And that's something that's intensely intimate.
Still, the future remains a shined up version of the present. It feels inevitable that CES become more of a spectacle every year, it's actually kind of counterintuitive. The tech industry's past now gives us a pretty good notion of what is worth being excited about and what is a product that might sell pretty well for a while. At CES, the latter is flogged as the former, making the event hard to parse in its entirety. This is concerning in the age of technological intimacy because the sales pitches are invasive.
What I'm getting at is this: If the future of tech is personal — and it is — then the culture of tech needs to change. When you go to see a great tailor, he doesn't just wrap you in pinstripes and starting stitching. He talks to you. Tech companies, salespeople, and consumers need to get comfortable having conversations about what they want and what they can offer each other. In many cases the answer will be "nothing." That's okay. Tech has become the dominant paradigm — the way we both solve our problems and frame them — so no one needs to sell the concept of progress. We're all in on progress. We're just all in it for ourselves.