Amazon Reviewers Are Obsessed With These Things That Seem Fancy but Are Actually Great Bargains
Who knew a trash can could be so stylish?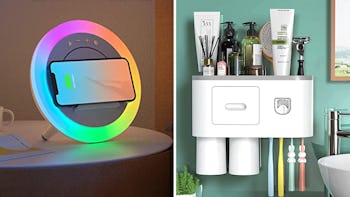 Amazon
We may receive a portion of sales if you purchase a product through a link in this article.
When I hear the word "fancy," specific images come to mind. Caviar. Fur coats. Infinity pools. Chocolate fountains and an old man peering at me through a monocle for some reason. In short, "fancy" is usually synonymous with "expensive." But just because something seems fancy doesn't mean you can't get it for a steal. Here's proof: I've compiled a list of 50 incredible products that seem fancy, but are affordable — and Amazon reviewers can't stop raving about them.
Whether it's treating yourself to a plush new bedroom set, investing in a product that gives you expensive-tasting coffee, or simply installing some fresh, stylish decor, there's something on this list for everybody with champagne tastes and a sparkling water budget.