These Clever Things Are So Cheap, Amazon Can Barely Keep Them in Stock
Add these to your cart asap.
Written by Rachel Bar-Gadda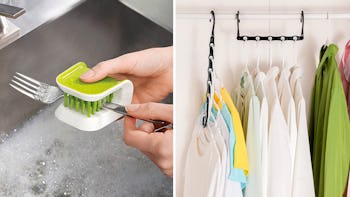 Amazon
We may receive a portion of sales if you purchase a product through a link in this article.
Packing cubes that neatly compress 14 days' worth of clothes into a convenient carry-on? A seven-piece knife set that comes with its own stylish acrylic stand? And stainless steel stemmed wine glasses that will never ever shatter, no matter how much fun you're having? You might expect to shell out your precious cash for items like these, but, in reality, these clever things are so cheap, Amazon can barely keep them in stock.
So read on to indulge yourself with magical foot peel masks and tidy up your closet with chic velvet hangers; your future awaits and at a reasonable price point, to boot.