40 Common Mistakes You Don't Realize Make Your Home Look Bad
And the solutions, of course.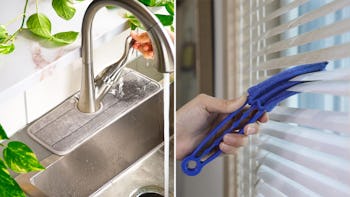 We may receive a portion of sales if you purchase a product through a link in this article.
Your home is where you likely spend the most amount of your time, which is why it can be easy to overlook the little things that are making it look not-so-great. For example, while you may be used to the yellow grout in your bathroom, a guest using the shower may find it incredibly off-putting. (And don't get me started on those curled rugs sitting out in your entryway.)
Luckily for both of us, I've put together this list of 40 common mistakes that you don't realize are making your home look bad. From dusty electronics to couches covered in pet hair, you'll likely find that more than a few of these apply to your home — and while I'm thinking about it, the grout in my bathroom could definitely use a refresh. But if you want to find out which small mistakes might be making your home look crummy, keep scrolling.