Did Ellie Need Surgery in the Last of Us? A Neurosurgeon Reveals the Truth
The HBO hit has leaned heavily on science, but did the hospital scene make the cut?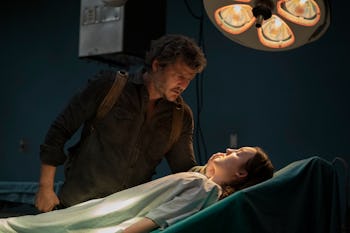 Liane Hentscher/HBO
The season finale of HBO's hit The Last of Us dropped on March 12, and it got fans in a veritable tizzy with a cameo from Ashley Johnson, who originally played Ellie in the video game and took on the role of Ellie (Bella Ramsey)'s mother for the live-action. It answered quite a bit of the mystery surrounding our teenage heroine's birth and her immunity to the terrifying Cordyceps, but there were some details that were hard to wrap around.
Warning: Spoilers for The Last of Us Episode 9 below!
In particular, the means of using Ellie to formulate a cure. In the hospital scene between Marlene (Merle Dandridge) and Joel (Pedro Pascal), the audience is told brain surgery is the only way doctors can effectively extract the fungus growing in Ellie's brain, a procedure that would ultimately kill her. Another reminder of the world's unceasing brutality and unwillingness to lose, yet again, someone who had become family prompts Joel to save Ellie before she goes under the knife.
The Last of Us has heavily leaned on science at its outset to prop up a reason as to how an otherwise innocuous fungus could, realistically, cause global devastation. But does the hospital scene make the cut? Here's what the experts say.
Did Ellie really need brain surgery?
While brain surgery invokes macabre imagery of a sliced skull and exposed brain, the medical procedure comes in different types that don't necessarily involve boring through bone. There are minimally invasive surgeries like a neuroendoscopy where a tiny tube outfitted with a camera is threaded up the nose or mouth, or endovascular surgery, which also involves threading a tube to the brain but through a blood vessel. The goal of these and other types of brain surgery is usually to remove or fix abnormalities like tumors, blood clots, head injuries, or in Ellie's case, a mutant fungus.
"In theory, they'd only need one cell to start a culture. And these are microscopic, so you'd be talking about minuscule amounts"
Thanks to Joel's timely intervention, we don't get to see what kind of brain surgery the Firefly docs had in store for humanity's plucky last hope. But due to limited equipment or perhaps technological resources (aka dystopian hard living), Ellie may have undergone a craniotomy, a procedure where the skull is cut open, which arguably would have given more access to the brain and its cordyceps.
Now, when Marlene tells Joel the surgery will cost Ellie her life, there's a bit of head-scratching to be had here. For one, it's never specified — both in the show and game — where the mutant fungi are eking out in the teenager's brain. Is the cordyceps chilling right at the brain's surface or nestled deep inside? Is it localized to one spot or spread out in a spidery mycelial network betwixt gray and white matter?
Knowing the location of the fungi and its reach could, hypothetically, determine Ellie's chances of survival, Damirez Fossett, a neurosurgeon at Howard University Hospital, tells Inverse.
"If [Ellie] is supposed to die, the likelihood of dying with anything you operate on in the brain will be the brainstem, which is the lower portion of the brain [responsible for] breathing, circulation, [and] heart rate," he explains. "The chances of you having anything remotely close to a good outcome is probably not that high."
If the cordyceps are lying close to the brain stem, which is also the brain's connection to the spinal cord, then it's not farfetched the surgery could kill Ellie. However, if the fungus is anywhere else, it could still detrimentally impact her quality of life since different parts of the brain do different things.
"There's a speech area of the brain [so if] there was an abscess [a pocket of pus] going on in that area of the brain and you did surgery, the patient could wake up unable to understand speech or unable to talk," says Fossett.
If the cordyceps is occupying a region of the brain involved in personality or motor function, Ellie's youthful spunk that lightened up the show's dark or somber moments or gun-toting that saved Joel when they were attacked in Kansas City could suffer irreparable changes.
Was brain surgery really the only option?
The fear of Ellie dying is a tidy, if not convenient, plot device to get Joel over his perceived inadequacies of "failing" his daughter Sarah and erstwhile partner Tess. But was brain surgery really the only option in harnessing Ellie's immunity? Marlene claims it's the only way to reverse engineer a vaccine or potential therapeutic as she tells Joel:
"[The doctor is] gonna remove it from her, multiply the cells in a lab, produce those chemical messengers... and then we can give it to everyone. He thinks it could be a cure, Joel."
In the real world, such invasive measures against a fungal infection would be unnecessary
But in the real world, such invasive measures against a fungal infection would be unnecessary, no matter how mutant, Chetan Bettegowda, professor of neurosurgery at the Johns Hopkins University of Medicine, tells Inverse. If the risk of devastating neurological function outweighs the benefits, clinicians may not offer surgery, instead opting to sample the tissue through a biopsy.
"Those folks may get a small biopsy where the needle is placed into that tissue under image guidance to sample. We don't remove the whole mass or the whole abnormality," says Bettegowda. "In some cases, it's so treacherous, we don't even do that, we just empirically treat based on past evidence of what that person has."
Granted, Ellie and her cordyceps appear to be a "species with benefits" relationship, so treating the fungus is a moot point. But to formulate a treatment, a simple, far less resource-costly biopsy would have been the way to go, Bill Sullivan, professor of pharmacology and microbiology at the Indiana University School of Medicine, tells Inverse.
"In theory, they'd only need one cell to start a culture. And these are microscopic, so you'd be talking about minuscule amounts," he says. "In addition, it would not even be a biopsy per se, as that implies they'd need to harvest Ellie's brain tissue. This fungus does not invade brain cells, it just grows in the brain. In other words, they should be able to collect fungal cells without disturbing brain tissue. The only caveat to that is if the fungus grows deep inside the brain, so they'd need to pick it apart to get to it, but I don't recall [the characters] saying anything like that."
With season one ending on the faux father-daughter duo heading back to Tommy (Gabriel Luna) in Wyoming, how Ellie's immunity will benefit humanity is still unclear. But let's hope, at least for season two, The Last of Us writers take some pointers from here and make the science make sense.