NASA announces its unidentified aerial phenomena research team to examine mysterious sightings
The team will announce their findings next year.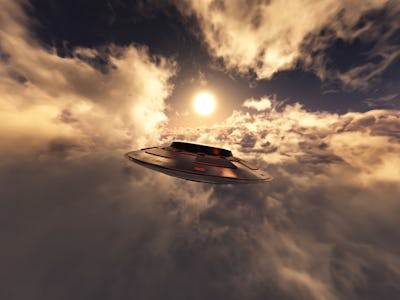 Mark Stevenson/Stocktrek Images/Stocktrek Images/Getty Images
A 16-person team — including an astronaut, a space-treaty drafter, a boxer, and several astrobiologists — will soon begin its review of unexplained aerial phenomena (UAP) for NASA.
The space agency announced Friday the members of the team, who will labor over the course of nine months starting on Monday to analyze unclassified data on UAPs, peculiar sightings of objects behaving unlike anything we're familiar with. But until the full report is released to the public in mid-2023, NASA says everything will be kept a secret.
UAPs get their classification due to their puzzling behavior in the sky, which doesn't fit into the known behavior of aircraft or known natural phenomena. NASA will unpack the data to come up with a way to study the unknown.
NASA says their work will "lay the groundwork" for future UAP studies. This first phase is a brainstorm, to see how observations that civilian government entities and commercial data have gathered could be analyzed. And then, they'll look at how future data can be collected.
NASA will hold a public meeting after the report is released to discuss the study's findings, an event that curious onlookers might want to earmark.
The space agency says officials are excited to see what the team uncovers. "NASA is going in with an open mind," the space agency writes in a Frequently Asked Questions webpage devoted to UAPs. "And we expect to find that explanations will apply to some events and different explanations will apply to others. We will not underestimate what the natural world contains, and we believe there is a lot to learn."
Is it aliens? The short answer is, NASA doesn't know. The space agency chooses to highlight its search for extraterrestrial life when it publishes new information about the new UAP study. But agency officials have also been candid about where the data stands. They explicitly stated back in June that, "there is no evidence UAPs are extra-terrestrial in origin."
Meet the UAP team
Daniel Evans, the assistant deputy associate administrator for research at NASA's Science Mission Directorate, orchestrated the study.
The 16-member team includes:
Astrophysicist David Spergel will lead the team. Spergel is a former chair of the Astrophysics department at Princeton University in New Jersey, founding director of the Flatiron Institute for Computational Astrophysics, and currently serves as president of the Simons Foundation in New York.
Astrobiologist Anamaria Berea has previously found patterns in data using a range of computational methods. Berea is a research affiliate with the SETI (Search for extraterrestrial intelligence) Institute in Mountain View, California, and an associate professor of Computational and Data Science at George Mason University in Virginia.
SETI researcher and astrophysicist Shelley Wright, also specializes in building telescope instruments. Wright is an associate professor at the University of California, San Diego.
Former NASA astronaut Scott Kelly is an airplane expert and seasoned spacefarer. Kelly has flown supersonic fighter planes, and set a record for total accumulated number of days spent in space on a year-long mission to the International Space Station.
Satellite technology leader Walter Scott, the executive vice president and chief technology officer of Maxar technologies. The Colorado-based company says it has partnered with more than 50 countries to monitor changes to Earth's surface from space.
Astrophysicist, data scientist, and boxer Federica Bianco, focuses on using data science to study the universe. Bianco is a joint professor at the University of Delaware, is the principal investigator of Federica Astrostatistics Lab (FASTLab), and coordinates more than 1,500 scientists for the 2023 Large Synoptic Survey Telescope Science Collaboration to discover new galaxies and stars in the southern sky. Bianco is also a boxer who goes by the title "The Mad Scientist."
Astrophysicist David Grinspoon, a frequent advisor to NASA's space exploration programs. Grinspoon is a senior scientist at the Planetary Science Institute in Arizona, and has explored the climate evolution and potential for habitability on exoplanets.
Oceanographer Paula Bontempi, who's researched marine environments for more than 25 years. Bontempi is the dean and professor of the Graduate School of Oceanography at the University of Rhode Island, and has led NASA ocean biology research.
Technology and government industry leader Reggie Brothers, was the former undersecretary for Science and Technology at the U.S. Department of Homeland Security and Deputy Assistant Secretary of Defense for Research at the Department of Defense.
Technology-trend analyst Jen Buss, CEO of the Potomac Institute of Policy Studies in Virginia. Buss has formerly worked with NASA.
Artemis Accords leader Mike Gold, also led the negotiation and adoption of the lunar Gateway's international agreement. Gold is the executive vice president of Civil Space and External Affairs at the space technology company Redwire in Florida.
Science journalist Nadia Drake, who specializes in astronomy news. Drake is a regular contributor to National Geographic, and has won several journalism awards.
Telescope scientist Matt Mountain works with NASA's James Webb Space Telescope. As president of The Association of Universities for Research and Astronomy (AURA), Mountain oversees 44 U.S. universities that help NASA and the National Science Foundation build and operate observatories like the Hubble Space Telescope.
Aeronautics expert Karlin Toner, the acting executive director of the U.S. Federal Aviation Administration's (FAA) Office of Aviation Policy and Plans. Toner has managed threats to civil aviation when she was previously the director of the FAA's global strategy.
Former aerodynamist for the U.S. Coast Guard and U.S. Air Force, Warren Randolph, the deputy executive director of the FAA's Accident Investigation and Prevention for Aviation Safety department. Randolph uses data to inform the assessment of future aviation hazards and risks.
Ionosphere researcher Joshua Semeter, director of the Center for Space Physics at Boston University. Semeter studies how Earth's upper atmosphere interacts with the space environment, and he develops sensors and experiments that could take measurements of this celestial border.