NASA's Unidentified Anomalous Phenomena (UAP) Report Is Finally Public — Here's What It Shows
There's a global fascination with UAP, NASA leaders say.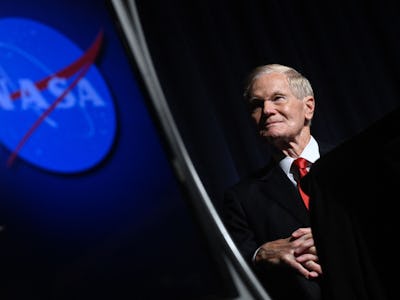 ANDREW CABALLERO-REYNOLDS/AFP/Getty Images
NASA has finally released the highly-anticipated unidentified anomalous phenomena (UAP) report, which finally draws some needed conclusions, but also, of course, raises some new questions.
UAP is the modern term for UFO. UAP is now used to disavow the mysterious sightings over air and sea from their popular connection to extraterrestrials. During a Thursday press conference, NASA leadership spoke about the report, which was created by a team tasked over the last year with figuring out what to make of the strange sightings that military personnel have reported since the 1990s. Their investigations are designed to help the main governmental body responsible for resolving unexplained UAP, the Pentagon's All-domain Anomaly Resolution Office (AARO).
"There's a global fascination with UAP," NASA Administrator Bill Nelson said on Thursday.
"This independent study team brought together some of the world's leading scientists, data, and artificial intelligence experts, and aerospace safety specialists, all with a specific charge from me, which is to tell how to apply the full focus of science and data to UAP. And this is the first time NASA has taken concrete action to seriously look into UAP."
Nelson and other leaders said the same thing: Nothing suggests that any UAP has an alien origin. However, there's a lot about UAP that remains unknown.
What does the new report say?
Last year, NASA convened a team of 16 experts to figure out how NASA could support the U.S. government's investigation into UAP.
"Months of meticulous fact-finding, cross-disciplinary collaboration, and scientific rigor gave the team insights and greatly enhanced our nation's understanding of UAP going forward. The team's report, now available on NASA's website, stands as a testament to NASA and the team's commitment to transparency, to the power of science, and to the unwavering quest for knowledge. We at NASA believe studying UAP represents an exciting step forward," Daniel Evans, assistant deputy associate administrator for research at NASA, said on Thursday.
Over the last year, the team looked at footage of the sightings and tried to see what kind of data could be collected going forward to help resolve the few incidents that remain unexplained. Most UAPs have been cleared up.
"Previous work from the AARO has shown that most events are explainable as planes, balloons, drones, weather phenomena, and instrument features," David Spergel, Simons Foundation president and team chair, said on Thursday.
NASA's study, which is available here to read, includes a few cases that still remain a puzzle.
"UAP are one of our planet's greatest mysteries. And it's really due to the limited number of high-quality data that surrounds these incidents that often render them unidentifiable," Nicola Fox, associate administrator at NASA, said on Thursday.
What happens next?
"In this, the public's role cannot be overstated. The panel envisioned a framework that leveraged crowdsourcing," Spergel said. That could include a smartphone app that could collect data.
A possible next step is to integrate UAP sightings into existing aviation reporting systems, Spergel said. This could help reduce the risk UAP could possibly pose, as well as remove some stigma if pilots see something peculiar. Artificial intelligence could also help future queries, Fox said.
With agency collaboration and public engagement, NASA leaders expect the agency to be a key player in understanding UAP.