NASA Astronaut Frank Rubio Just Accidentally Broke The Spaceflight Record
Rubio was stranded in space following a space capsule mishap and finally returned home.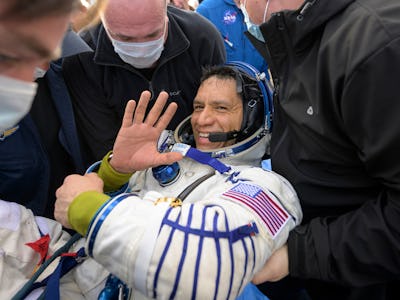 Bill Ingalls/NASA/Getty Images News/Getty Images
NASA astronaut Frank Rubio, who returned home from the International Space Station (ISS) this week, has shattered the American record for the longest time spent in space.
Rubio spent a whopping 371 days onboard the ISS. He traveled a staggering 157 million miles over the course of 5,936 orbits around Earth, which, according to NASA, is roughly equivalent to 328 trips to the Moon and back. This wasn't how he had planned to spend his first mission to space, however.
His laurels stem from an accident. His mission was designed to last six months. But last December, less than three months after reaching space, the Russian Soyuz MS-22 capsule that carried Rubio and two Russian cosmonauts to space experienced a massive coolant leak. Cameras onboard the ISS were getting ready to capture footage of a spacewalk but instead wound up capturing the liquid spray out into space. Without this material, Russian space agency Roscosmos and NASA worried for the safety of the trio upon reentry.
Typically, each crew that reaches the ISS makes a return trip in the same capsule they launched on. Rubio and fellow MS-22 passengers Sergey Prokopyev and Dmitri Petelin watched as several spacefaring crews arrived and departed the orbiting laboratory. Their rescue capsule, a Soyuz MS-23, arrived in February 2023.
At 3:54 a.m. Eastern on Wednesday, it finally departed the ISS with the trio onboard and performed two burns to create a safety-cushion distance of roughly two dozen miles. Then, after more than a year in space, they prepared to reenter Earth's atmosphere.
Touchdown was confirmed at 7:17 a.m. Eastern Time at a location southeast of the remote town of Dzhezkazgan, Kazakhstan.
"Frank's record-breaking time in space is not just a milestone; it's a major contribution to our understanding of long-duration space missions," said NASA Administrator Bill Nelson. "Our astronauts make extraordinary sacrifices away from their homes and loved ones to further discovery. NASA is immensely grateful for Frank's dedicated service to our nation and the invaluable scientific contributions he made on the International Space Station."
The three stranded space station crew members are finally back home, marking the end to the coolant leak saga.