What If You Could Become a Tree?
Funerary startup Transcend is on a quest to rebrand death for the good of life on Earth.
by Lindsay Lee Wallace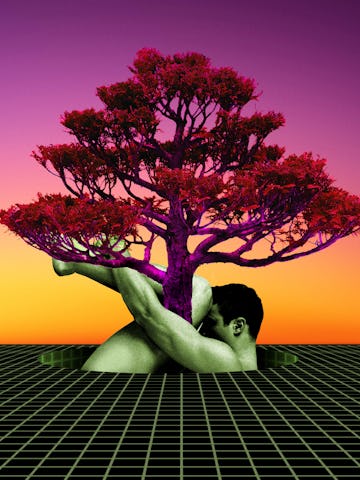 Lais Borges/Inverse; Getty Images
In 2019, Matthew Kochmann was thinking about death. Specifically his own death, and whether it would be possible for him, upon the occasion of his demise, to be a tree.
An entrepreneur, environmentalist, Transcendentalist, and Uber employee number seven, Kochmann isn't one to sit around and wait for someone else to have a winning idea. Instead, he began Transcend, a company that aspires to preserve acres of nature through conservation easement and reforest land domestically and abroad by giving paying customers the chance to "be the trees you want to see in the world." (Oh, and their cats and dogs, too: Pet burial kits are sold separately, albeit with a weight limit of 90 pounds, so Great Danes might be out.)
Transcend promises that when you die — for an undisclosed fee — you will be buried in a bed of carbon-rich wood chips or hay, two hours outside the major metropolitan area of your choice and three-and-a-half feet beneath a layer of mycorrhizal-fungi-enriched soil where your body will provide nutrients to the roots of an adolescent tree in a green burial ground called a Transcend Grove.
There, your decomposing body will feed the fungi, which will intermingle with the roots of your chosen tree (you get up to 10 species to choose from), as well as the mycelium networks and tree roots intertwined with those buried around you. In this way, you will become one with the tree, and the entire surrounding environment, and the land you're buried in will be protected in perpetuity from further development. And at some point between signing up to be a tree and meeting those mycorrhizae up close, you just might shift your perception of death, and help save the planet in the process.
"There's nothing more powerful than owning a consumer for the rest of their lives."
Ultimately, Kochmann hopes Transcend's take on green burial — a practice that's existed as long as humans have, which involves burying a deceased person without chemical treatment in a biodegradable vessel — will both change the way we think about and plan for death and our role in our ecosystem more broadly.
Transcend also vows to plant 1,000 trees on your behalf when you die, via its partnership with One Tree Planted (the CEO, Matt Hill, is one of Transcend's advisers), a commitment Kochmann says is spurred by the reckoning of the climate crisis.
But Kochmann tells Inverse his ambitions for Transcend go beyond even that. Big picture, he says he's focused on recruiting millennials to a business that won't just bury them in 70 years but "build a relationship with them for the rest of their lives, helping them age gracefully as a sustainably minded consumer," through other offerings along the way.
"There's nothing more powerful," Kochmann says, "than owning a consumer for the rest of their lives."
The Business of Burial
For Transcend adviser, former Green Burial Alliance president, and proprietor of multiple green cemeteries nationwide Ed Bixby, those 1,000 extra trees are a key selling point.
He says when Kochmann approached him about advising for Transcend, "I listened to him [because of] the commitment from [One Tree Planted]. Any cemetery can do what he's proposing. They do. I do. This is not something that was invented," he tells Inverse.
"We've been doing it for 15 years and we've never advertised it as something new or different."
According to New Hampshire Funeral Resources and Education, there are 351 green burial cemeteries in the United States. Twenty are conservation burial grounds, meaning they — like Transcend — have the dual mission of providing natural burials, and protecting land from development. And, according to Bixby, many will gladly plant a tree on your grave.
"But we never had a partner that could provide the service that Matt is saying [One Tree Planted] is going to provide for him," Bixby says.
Sarah Chavez, executive director of death positivity group Order of the Good Death, explains to Inverse that a growing number of U.S. residents are interested in green death and burial options.
"Greener options are wonderful and necessary, but how many people can actually afford or access them?"
Viewed in this light, Transcend's wading into this space makes good business sense. Polling in 2021 conducted by Gallup found that 65 percent of American adults surveyed are concerned about climate change, and the rates are higher among millennials, Transcend's target demographic. According to the IBM Institute for Business Insight, four out of five customers say sustainability is an important consideration when choosing a brand. Research shows consumers are more likely to be loyal to brands with environmental, social, and governance-related claims in their messaging, and that brands making these claims perform better than those without.
In March 2023, Transcend, which is registered as a Public Benefit Corporation, sold out of its premium Founding Member Future Tree packages, which promise buyers "access to financial and preferential benefits" by locking in an individual price of $8,500 total for $100 down, along with 100 trees planted "immediately" in "high-need areas," and an exclusive T-shirt.
"I think greener options are wonderful and necessary, but how many people can actually afford or access them?" Chavez asks. "There's a bit of a dissonance in asking people to be enthusiastic about choices that will never be a viable option for them."
Transcend's website doesn't say how much grove reservations, expected to open fully this year, will cost initially (or how much they're predicted to cost in the future to justify framing the early adopter $8,500 price tag as a "deep financial benefit"). When asked about the pricing for reservations going forward, Transcend responded to Inverse:
"Right now, reservations are slated to open up towards the end of 2023 — pricing isn't solidified yet, but folks who sign up for Transcend's newsletter (and follow Transcend on Instagram) will be informed about preferential access to future founding membership allocations and discounted pricing."
Transcend's site also says that "Tree Burial's one, all-inclusive fee is 1/2 the price of traditional burial" — a claim at odds with the median price of a traditional funeral with a viewing and burial, which the National Funeral Directors Association says was $7,848 in 2021 (or $9,420 including a burial vault).
"Morally, it's not the right thing," says Bixby of high price tags for green burial. "But unfortunately, in the business world, that really doesn't hold a lot of water."
"The funeral industry is still an industry rooted in capitalism that plays on our desires, preferences, current trends, and our fears to sell us things we don't really need," Chavez says, noting that the Transcend website lacks information about pricing, grove location, and information on any science and testing to support their products.
"While I believe these greener options offer us a path toward more meaningful engagement with death and an opportunity to reimagine or reclaim death rituals that center people over profit, I'm also worried that we'll see many instances of greenwashing, too."
A Trillion-Tree Trouble
While many green burial cemeteries do offer to plant a tree directly atop your grave, not everyone in the industry agrees about the environmental credentials of the practice. Lee Webster, a founding board member of the Conservation Burial Alliance, says growing adolescent trees need ample space (ideally 50 square feet). They also require significant water, which can reduce the temperature within a grave below what's needed to properly facilitate decomposition — between 105 and 155 degrees Fahrenheit, according to soil scientist and mortality composting expert Caitlin Price Youngquist. If all of these conditions can be balanced, the tree can thrive. If they're not, both the decomposition and growth processes can suffer.
And what of the additional thousand trees Transcend plans to plant per reservation? The company's website repeatedly flags Transcend's potential to help reach the aspirational "1 trillion trees" figure first suggested in a 2019 study that took the world by storm.
But many climate and forestry experts have taken issue with the assertion that planting 1 trillion trees is a worthy focus of climate change mitigation efforts — including a co-author of the study, ecologist Thomas Crowther.
"I've never in my life said we should plant a trillion trees," Crowther told The Guardian in 2021. The team behind the paper has since issued an extensive clarification and correction.
"The death conversation is very intrinsically interwound with this climate conversation."
As with the planting of a single tree over a single grave, the issues with mass tree-planting depend largely on execution. Organizations that design projects based on uninformed policy, fail to plant appropriate vegetation for the area, plant trees only to cut them down again for corporate use, and deliberately focus on tree-planting to the detriment of other carbon reduction efforts, are increasingly frowned upon.
"Becoming a tree when you die is a lovely idea that clearly resonates with people, but products that have claimed to transform our remains into trees have fallen short on this promise," Chavez says. "There's so much misinformation and misunderstanding out there, we had to create a guide on our website."
But whether Transcend's methods are considered truly green or not, what is true is that traditional burials in the United States introduce thousands of tons of metals, millions of tons of concrete, and even more millions of gallons of embalming fluid into the environment yearly. (Or at least they did 20 years ago: The figures cited by Transcend, the Green Burial Council, and other alternative funerary offerings come from an Outside magazine piece from 2002. But it's safe to assume traditional burial is still a hugely wasteful phenomenon.)
"Death is coming for us at a faster and faster pace. I think the death conversation is very intrinsically interwound with this climate conversation," Kochmann says.
Against a cultural backdrop of harmful suppression when it comes to conversations about both climate change and death, it makes sense that so many feel compelled by the chance to die in a way they're told will bring them closer to nature, and help to heal it.
Whether the choice to make this vulnerable moment more natural can be balanced with the incentive of any startup to make it more profitable, as well, remains to be seen.
"Turns out becoming a tree when you die can be more complicated than you think," Chavez says.